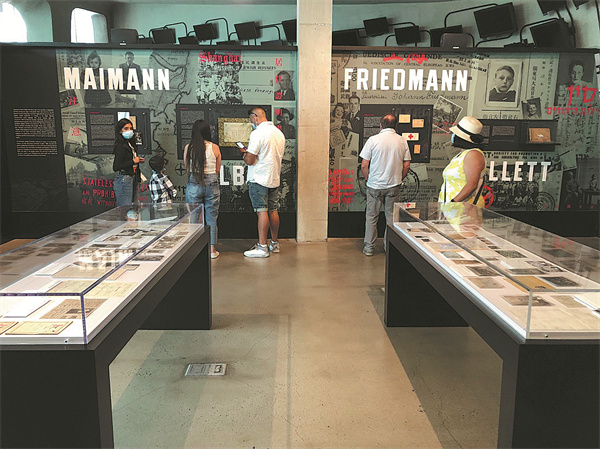 Deep love
Chinese food is one of her favorite cuisines, she says, and she gravitates to Chinese people as friends.
"I have a deep love for Shanghai of China because it saved my family's life."
Like Brookfield, James Westheimer's late mother picked up habits while living as a Jewish refugee in Shanghai that are reminiscences of her time in China.
"She could speak to 10 (in Chinese)," he laughs, remembering fondly the "Chinese dishes" that his mother, whose maiden name was Salomon, used to prepare for her family in the US.
"She learned a little bit (of Chinese). She claimed she cooked some Chinese meals, which really weren't."
Susan Salomon was born in 1921. In late 1939, when she was 18, Salomon migrated with her family from Berlin to Shanghai, where she stayed until 1947, Westheimer says.
By the time the family left Germany, ships were no longer taking passengers, so the family was split in half on their journey to Shanghai. Salomon's father and sister traveled by boat, and she and her mother went by the trans-Siberian railway that took them across the Soviet Union, and eventually the family met up in Shanghai, Westheimer says.
During their first year there the family enjoyed some freedom to move around the city. However, after the Japanese occupied all of Shanghai in 1941, refugees were confined to Hongkou district, with significantly reduced movement and interactions with locals, he says.
"My mom did (interact with the locals) a little bit and we asked about that. But most of the time they were confined."
Westheimer's mother, who would have turned 101 in September, eventually moved to the US and married his father, a German Jew whose family had immigrated to the US in earlier years.
On a sunny day on Aug 27 Westheimer, a resident of San Diego, stopped by the Holocaust Museum LA exhibition on his way to visit his sister in Los Angeles. He planned to donate some of his mother's personal artifacts to the museum.
"Everybody says this was a secret, but it wasn't a secret to me," he says. "I've grown up with it."
Gessler, the exhibition's curator, said it is inspiring to know that different individuals worked hard to save strangers' lives.
She pointed to a tallit bag, a Jewish prayer shawl, on display in the exhibition. It was woven using silk. It is embroidered with plum blossoms, a Chinese symbol representing resilience, Gessler says.
"Showing this merger of cultures and influence of cultures was something that was really exciting for me, because I think learning about different histories and cultures can really strengthen the community."
An estimated 70-85 million people, or 3 percent of the world's population in 1940, perished during World War II. Many people also lost their homes, and in Europe alone about 55 million people were displaced.
Many important pieces of this period have social relevance to today, Gessler says.
"The refugee crisis, the fact that borders were closed to Jews, the fact that Shanghai became the sanctuary for nearly 20,000 Jews, saving their lives."
There has been "an increase in hatred, in identity-based violence in people ignoring the plight of others" in recent years, she says.
"And unfortunately, that is something we see when we study the Holocaust. But in the face of that we also see in this story specifically examples of people doing kind actions."