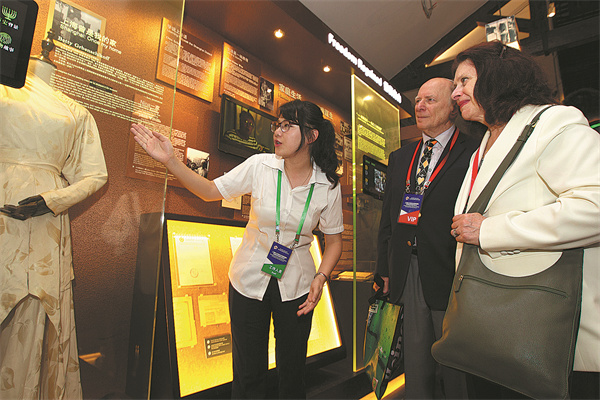 Diplomat's help
Some artifacts in the exhibition will be integrated into the permanent collections at Holocaust Museum LA, among them a copy of the diplomatic passport of Ho Feng Shan, whose information will be added to an exhibition featuring individuals worldwide who helped rescue Jewish lives.
The annexation of Austria by Nazi Germany in March 1938 resulted in a wave of violent prosecution against Jews, many of whom were desperate to flee the country. However, the Nazis required those who wanted to leave to have visas allowing them entry to another country or outbound tickets on a ship.
Ho was the Chinese consul general in Vienna, and he saved thousands of Jews by issuing 400-500 visas a month in 1938 and 1939, against the orders of his superior.
"He was not of the Jewish faith, but instead he used his position," Gessler says. "He used who he was to help people who needed help."
To his daughter Ho Manli, Ho could be described as a 20th century Zhuge Liang, a Chinese statesman and military strategist of the Three Kingdoms period (220-280), drawing on his wisdom and strategic prowess to help many Jews.
"My father's generation had witnessed the humiliation that China had suffered under foreign imperialism and was determined not to allow that to continue," she says. "As a result, he was particularly sensitive to the persecution of any peoples."
When Japan invaded China in 1937 almost all mainland ports fell under Japanese control. The only exception was Shanghai, because none of the foreign authorities represented in the city had the power to exercise passport controls.
The Western powers also did not want Japan, an ally of Nazi-Germany, to have control of the harbor, concerned that this would impede access to the city.
Armed with these, even imprisoned relatives and those already deported to concentration camps were allowed to leave. The visas provided the means for Jews to travel to Shanghai or other countries under the pretext of transiting through them on their way to the city, she says.
Among the visa recipients was Eric Goldstaub, who visited every consulate in Vienna before securing 20 visas for members of his immediate and extended family at the Chinese consulate. Goldstaub stayed in Shanghai until 1949 and settled permanently in Canada, according to the US Holocaust Memorial Museum in Washington.
Mike Blumenthal, US Secretary of the Treasury under Jimmy Carter, US president from 1977 to 1981, was another. He fled to Shanghai with his family as a 13-year-old in 1939, shortly before World War II broke out.
Others, such as the parents of Israel Singer, former secretary-general of the World Jewish Congress, used the Shanghai visa to travel to other destinations.
"He actually shared the information that Shanghai was a place where they could go, because most of the Austrian Jews didn't know about Shanghai at that time," Gessler says of Ho, who died aged 96 in 1997.
Ho's humanitarian efforts also put Shanghai on the radar of German Jews who could not go to China's consulate general in Vienna for the visas.