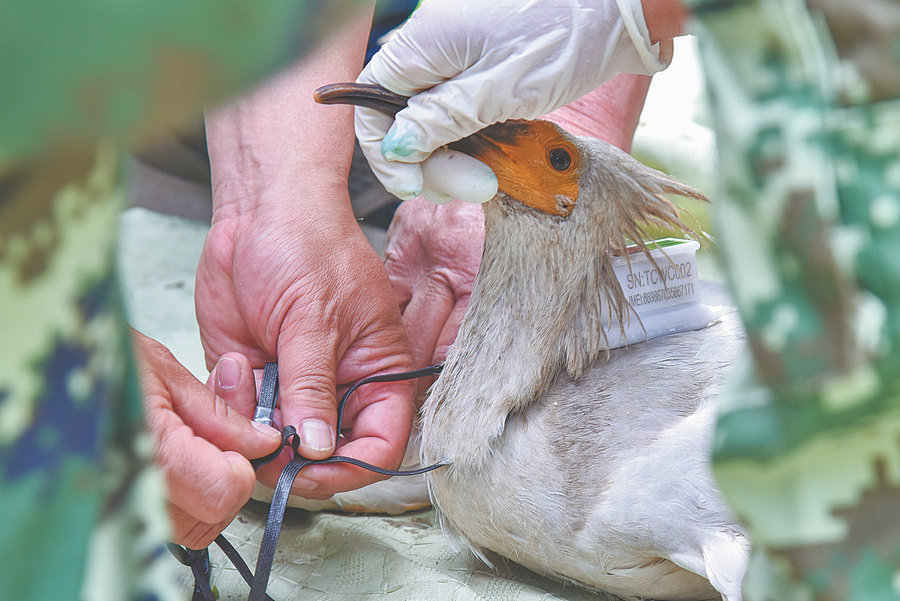 "They love oriental weatherfish and flour beetle," Luo says, adding that he also feeds them a second time in the afternoon.
"Crested ibises are afraid of humans, but they don't fear me, because I have fed them for a very long time," he says with pride.
In addition to the feeding, Luo also keeps tabs on the activities of the birds. From March to June, Luo and his colleagues check their nests and ensure that their mating isn't disrupted by any human interference.
"We also wrap smooth plastic paper around the trunks and tree branches to stop possible snake attacks," Luo explains.
"Safety nets have also been set up under the trees in case the fledglings fall."
Although the job is labor-intensive, Luo and his colleagues take delight in their meticulous and thorough work.
They not only receive a stable income, but also enjoy the company of their feathered friends.
"It would feel like something is missing if I don't go out to see the birds," Luo says.
The harmonious coexistence of locals, birds and nature has helped to attract travelers in droves, which brings more opportunities for the development of the village.
Liulin used to be the southern gate of a revolutionary base in the border area between Shaanxi and Gansu provinces. Complex geological conditions featuring primitive mountains and ravines cut it off from the outside world, leaving its infrastructure largely underdeveloped.