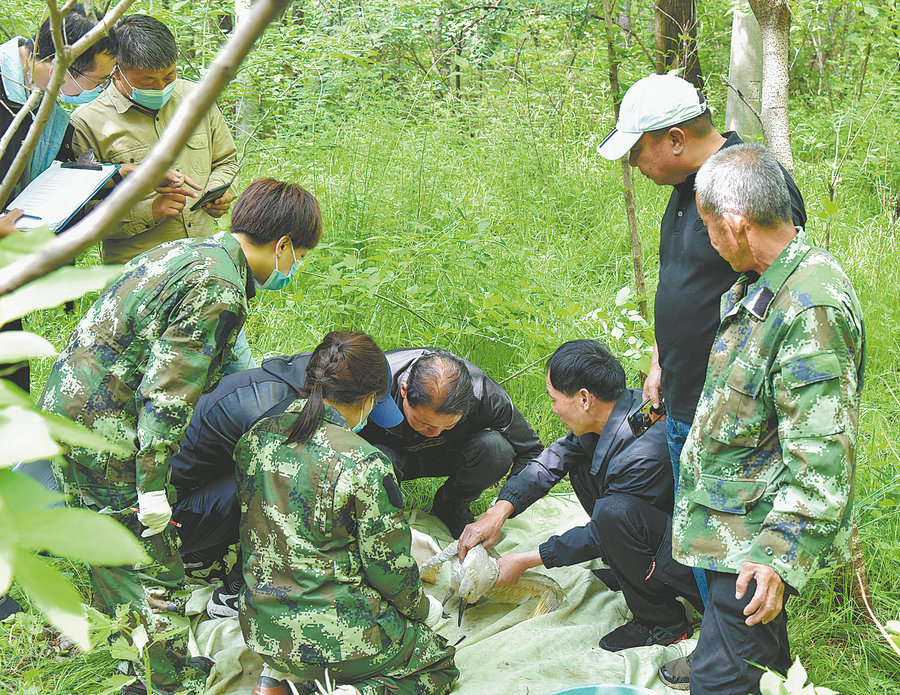 Liulin village in Shaanxi province is harnessing its natural gifts to fuel local industry growth and provide the area's residents with a better life, Yang Feiyue reports.
Walking along the mountain path of Liulin village, one can often spot a touch of light red that flits through the woods and across the sky.
It is a special local bird, the crested ibis, the sight of which has been widely considered auspicious, as the bird is believed to be a harbinger of good fortune.
Once on the verge of extinction, the birds are now becoming a common sight in Liulin that is tucked away in the mountainous area in the south of Yaozhou district, Tongchuan city of Northwest China's Shaanxi province, thanks to the ecological preservation and restoration efforts of local authorities over the past decade.
The village has clear waters, open wetlands and plenty of lofty trees that are ideal places for the crested ibis to nest.
Initially, the only worry for scientists was whether the cold winter, with the rivers frozen over, would result in a shortage of food for the birds.
In April 2013, scientists built a facility especially to train the crested ibises that had been bred in captivity to get accustomed to living in the wild in Tongchuan. Three months later, 32 were released into the forestry station in Liulin, followed by 30 more in 2015.
With persistent efforts of local villagers, who have assumed the role of guardians of the ibises, these precious birds have endured the chilly winter, and their population has since been on the rise.
The project has not only improved ecological conditions in the area, but also created job opportunities for residents.
In 2016, the Yaozhou district forest bureau hired 16 villagers from impoverished families. Luo Jianli was one of them.
For the past six years, the 59-year-old has been rising with the lark every morning.
He first cleans and sterilizes the activity zones for the crested ibises, before preparing a basket of worms and spreading them over the verdant grasslands. Flocks of the birds then descend to enjoy their breakfast.