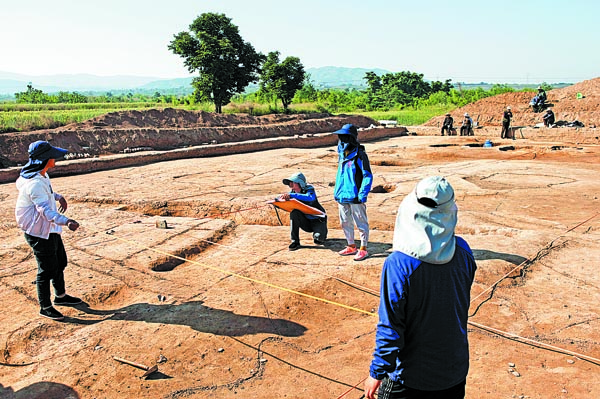 Work at Palace No 1 site started in March 2018 and was jointly conducted by the CASS Institute of Archaeology and the Shanxi provincial archaeology institute. It was finished earlier this year and archaeologists now have reasons to believe it covered an area of roughly 6,500 square meters.
"The palace was very grand in scale and boasted the biggest rammed-earth foundation," Gao says, adding that the main hall alone was 540 square meters in size, the largest of its kind in the Neolithic period, which in China refers to 10,000 to 4,000 years ago.
The whole structure was rectangular, a traditional palatial shape embraced over the course of history in China. "The layout was typical of Chinese palaces, with a main hall, adjoining buildings and corridors, a fortified enclosure and city gates. We even found application of the central axis concept, which was carried on by later generations," Gao says.
Intricate carvings and stamped patterns on the gray floor have corroborated earlier conjecture about the site having a palace.
More than 120 relics have been unearthed, including pottery, things made of animal bones, and jade and bronze wares.
"Some of them are exquisite, some rarely seen before. The discoveries at Palace No 1 site will play a positive role in promoting studies about the origins of Chinese civilizations and about early China," Gao says.
Early findings at the site included more than 1,000 tombs. These were unearthed before 1985 and were indicative of social stratification in ancient times.
In 2003, an observatory believed to have been built around the 21st century BC was found in Linfen.
It is proof of a highly developed civilization, preceding even Stonehenge (a prehistoric stone circle monument, cemetery and archaeological site near Salisbury in Wiltshire, England).