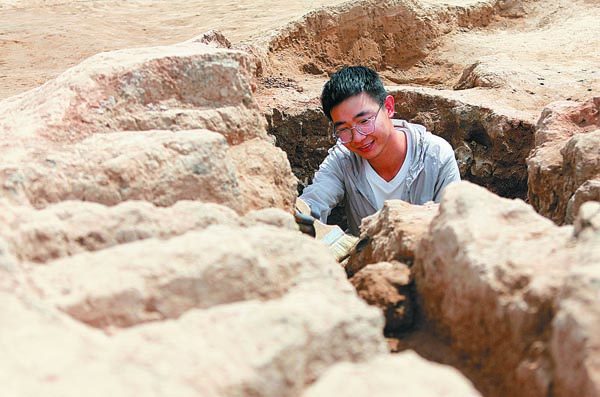 Taosi may have been the capital during the Yao era, but was abandoned around the 19th century BC. "The site has features that match what was documented by early Chinese historians," Gao says, adding that a lot still needs to be done to understand the era of Yao from a historical perspective.
The discovery of palace ruins, a storage house, tombs, astronomical platforms and a handicraft hub, among others, over the past four decades suggests that Taosi was as equipped as any ancient capital city.
Although archaeologists have unearthed other cities in China that are older than Taosi, few of them have monumental constructions and clear urban layouts like the latter does. The palaces have garnered the maximum academic attention. "They mirror the degree of civilization at that time and provide hints of cultural inheritance by following historical periods," Gao explains.
From 2013 to 2017, excavation work primarily shed light on the palace enclosure covering 130,000 square meters. "It is challenging to conduct an archaeological study of ancient architecture, as most structures are in ruins. Experts from various disciplines need to be involved to interpret signs and symbols. A high-level scientific approach must be applied," says Gao.
As many as 11 palaces are believed to have existed at the site in prehistoric times. "So far, we have finished work at the 'Palace No 1' site. We have basically figured out its scale, structure, layout, boundary and time span," Gao says.
These have been determined by extrapolation from the raised rammed-earth foundations, and everything else that has managed to stand the test of time, including pillars, he adds.