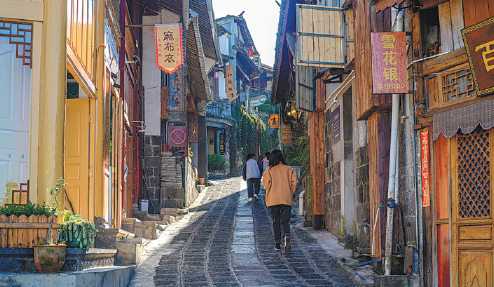 The ancient town has made great strides in tourism development, ecology preservation and cultural inheritance under the influence of the president's speech during his visit to Yunnan, Pu says.
Experiences that follow Xi's route during the visit have been developed for visitors to better understand Heshun, and, in July last year, a philosophy institute was built right next to the Ai Siqi Memorial.
"People in the neighborhood come here to read books that help them learn to improve themselves," says Li Chengyue, who has been in charge of the daily operations of the philosophy institute.
Occasionally, he also gives guided tours.
"The job is especially meaningful, because it increases the understanding of my hometown," Li says.
"All villagers have been showing an increasing sense of pride in recent years."
With a history of more than 600 years, Heshun offers natural scenery of mountains and rivers. Visitors will find exquisite courtyards, ancient inscribed tablets, serene and winding lanes, as well as down-to-earth villagers-all of which make for an idyllic pastoral getaway.
Local authorities have initiated a four-level protection mechanism that involves town and village officials, as well as civilians, for local ecology initiatives, including cultivating and nurturing local wetlands.
Modern toilets have been widely installed, and trees have been planted to increase the town's forest coverage rate to 74 percent. Pollution prevention and control measures have been taken to restore local rivers and historical architecture, including ancestral halls, stone bridges and memorial gateways.
The Heshun library claims to be the biggest of its kind in the countryside. It was built in 1928 and has evolved into a popular spot among visitors.
"Our library has many inscriptions by well-known scholars and more than 100,000 books," says Wang Shanshan, an employee with the library.
The library is also home to more than 20,000 ancient thread-bound books and publications from the beginning of this century.
As public reading habits evolve, Heshun library has also rolled out various initiatives to boost public reading.
"We've relied on our in-house digital library platform to deliver free sharing of our collection, with tens of thousands of downloads every year since its inception," says the curator Cun Yu, adding the library is promoting digital literature to make reading more convenient and to upgrade public cultural services.