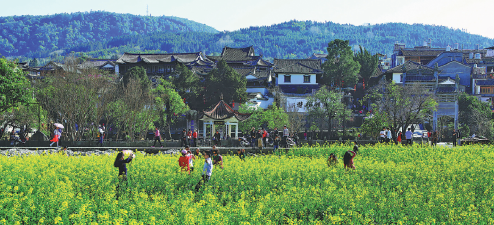 Cun returned to Heshun from abroad in 1982 and followed in his grandfather's footsteps to serve as the fifth curator of the Heshun library.
He has witnessed the progress in the public participation of cultural events over the past four decades.
Free calligraphy and traditional Chinese painting lessons have been held at the library, and other local cultural activities and patriotic education have been hosted for visitors to Heshun.
Since the 1920s, locals have pursued an education focusing on intellectual, ethical and athletic development. Many historical figures have emerged from the region, including Ai Siqi, a renowned philosopher.
They have helped nurture an inclusive, open and harmonious culture, which offers an inexhaustible source of power for social and economic development in Heshun, says Pu Yazeng, Party secretary of Heshun.
Local authorities have continued to tap into the area's cultural resources and to enrich the social lives of residents, especially after Xi's visit.
A philosophical seminar has been staged and representatives of local villages, officials and businesses gathered together to learn about the history of the town and exchange notes on philosophy and life.
"We've carried out themed activities on a regular basis for the residents to communicate with one another," Pu says.
The seminar was inspired by Xi, who, during his trip to Heshun, spoke about the country needing a large number of talented individuals who can competently explain the adaptation of Marxism into a Chinese context and who can use easy-to-understand language to disseminate new Party theories more widely.
Guo Sheng has been giving people at the grassroots level more than 100 lectures a year about Party policy and theory.
"The key is to explain things in plain and understandable language to the public," the 59-year-old says.
Guo is one of the many lecturers in Heshun who have kept local residents abreast of the Party's guidelines and helped transform Heshun into a town with a strong philosophical understanding.