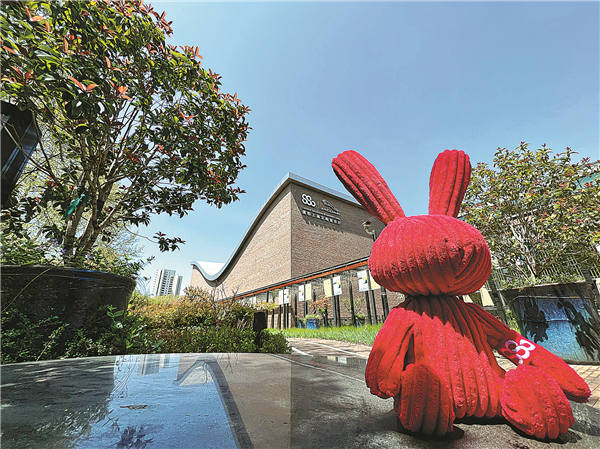 However, the primary goal for a company is to make profits. Therefore, Qiu has expanded the company, from 30 staff members to 200, and launched its offline cultural venue, Meet You Museum, to bring art and culture to daily life.
"We are keen to set up a new market-oriented business structure focusing on the design of cultural and creative products, as well as the introduction of the cultural exhibition space to offer both product and spiritual consumption to the consumers," says Qiu, who was inspired in his vision after visiting numerous museums and art galleries in various countries.
Qiu aims to open up to seven branches of Meet You Museum in the country by the end of 2022 to enable visitors to see international artworks, too.
"The support of cultural power may allow people to remember the experience for a lifetime and inspire their inner sense of beauty and kindness," says Qiu.
However, there are some problems in the cultural and creative industry. For example, the protection of IP rights is a top concern for Qiu's company.
"The cultural and creative market is not highly regulated with detailed laws or rules to protect the IP rights we own or purchase from overseas, so we are like fighters in the war who need to be defensive," says Qiu.
In addition, more museums and art galleries are rushing to the industry to fight for profits. According to the 2019 Museum Cultural and Creative Products Market Data Report jointly released by the Institute of Cultural Economics of Tsinghua University and Tmall, an online market of technology company Alibaba, 72 percent of the cultural and creative products were cross-border derivatives, which meant that the amount of cross-border derivatives was three times more than the proprietary products in the museums.
"It is necessary to respect culture and interpret culture in a personalized way, rather than purely follow the culture of consumption. It is also important to have high-quality cultural and creative products that meet the needs of the target audience and demonstrate cultural significance with creativity," says Ma Liyuan, vice-president and creative director of culture and creative products at Tianyu Culture.
Ma says museums and art galleries should start with audiences, and think about what kind of cultural creation they should have.
"It sounds simple, but there is a lot of work behind it, like market research, data analysis, creativity and so on," says Ma, adding that it is easy to enter the cultural and creative industry but it is difficult to do it well, and it is even harder to do it well for a long time.