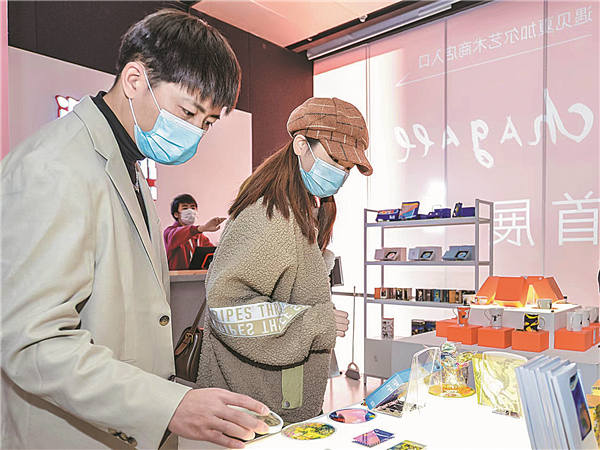 By the end of last year, the orchestra had developed more than 100 items of cultural and creative products, featuring products of practical use and with peculiar connections to music. For its 2020 New Year's concert, ovenware painted with the cartoon portraits of 10 conductors was designed to be a humorous summary of the past decade. Marking the 250th anniversary of Beethoven's birth, the orchestra released a series of creative products.
"We make sure that every piece available in our online shop is carefully conceived and delicately presented for the audience with creativity," says Lu.
At the same time, the government has promoted the transformation and development of culture, laying the foundation for creating a "unique cultural IP with Chinese characteristics". The culture industry has been booming from a surge in the number of related enterprises. According to statistics released by China Business Industry Research Institute, there were only 1,357 cultural innovation enterprises in China in 2015, which increased to 5,000 in 2019. By 2021, there were 10,000 cultural innovation enterprises in the country, with a year-on-year growth of 65.3 percent.
In order to allow young people to understand museum culture, cooperation with brands has become an effective way to break the ice in the industry.
"The creativity of culture should be shown not only on the packaging but also on the design of the products, to present meaningful stories that have faded in history, in a modern way, for consumers," says Qiu Tong, CEO of Beijing Zhongchuang Tourism and Culture Group, which became widely known after working with the Summer Palace on a series of cultural and creative products in 2019.
Every year since its launch in 2017, the company has set a goal of coming out with at least "100 creative ideas" to meet the demands of clients, especially in the culture industry. So far, it operates over 20 intellectual property licenses for branded product crossovers.
"We designed a collection of cultural products for the Summer Palace by collaborating with Be &Cheery, a snack brand. One small snack box named 'rich and honored in blooming flowers' was designed as a closet in the shape of the palace where Empress Dowager Cixi (1835-1908) lived," says Qiu.
Every piece in the collection, he says, embodies cultural elements or settings unique to the Summer Palace in order to give the items specific cultural meanings, which are unique.