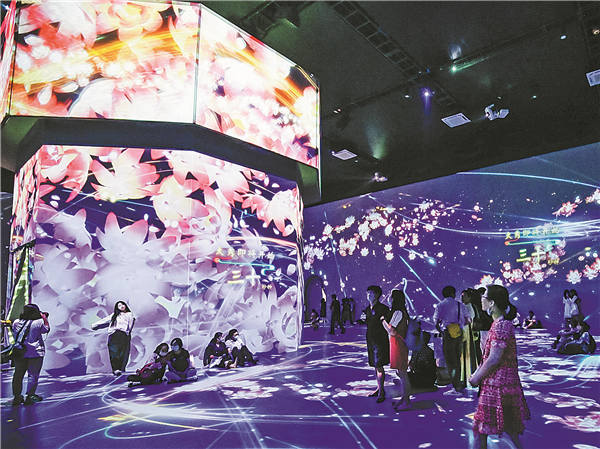 Cultural companies are turning increasingly to creative products to attract visitors amid COVID restrictions, Yu Ran reports.
The design of creative products, inspired by Chinese culture, is evolving from simply copying to the exploration of traditional elements for customization.
The Shanghai Symphony Orchestra, the oldest orchestra in China, is an organization that is willing to give this a try. It formally introduced its cultural and creative products at the end of 2019, as part of celebrations for its 140th anniversary, along with a series of tours of different countries.
"At the time, we were proud to share our history and classical moments with the audience all over the world, also in terms of the cultural and creative products with our unique designs on them," says Lu Jing, branding director with Shanghai Symphony Orchestra.
One of the items Lu and her team took along on the world tour was a box of coffee in the shape of an old-style camera, which contains seven drip coffee bags printed with photos of significant moments in the history of the orchestra.
In 2020, the spread of COVID-19 caused the sudden closing of its concert hall, so the orchestra launched an online program that uploaded audios and videos, organized online concerts, and displayed cultural and creative products online.
Different from museums that showcased art pieces for visitors via exhibitions and then attracted them to buy cultural and creative products as souvenirs from gift shops, the orchestra designed its exclusive products as a new way to communicate with the audience.
"We try to rebuild our relationship with the audiences through the elaborate creative products by sharing the precious history of our orchestra in a vivid way, " says Lu.
In 2020, the orchestra received two vinyl records, which were believed to be the earliest known recordings of the Shanghai Symphony Orchestra from Xu Shen, a local resident. Xu found the two records in his father's collection and donated them as his father's last wish to the orchestra.
Inspired by the vinyl records recorded in 1929 by Odeon Records, a Germany record label, Lu's team transformed the century-long leap into a set of handmade ceramic plates in the shape of the record and launched an NFT (non-fungible token, a data blockchain) product as a new form of art collection.
"Like this plate marked the historical moment from 100 years ago, each item we've released has history, significance and culture in it, which might arouse interest among the audience to explore the exclusive history and meaning behind the unique designs," says Lu.