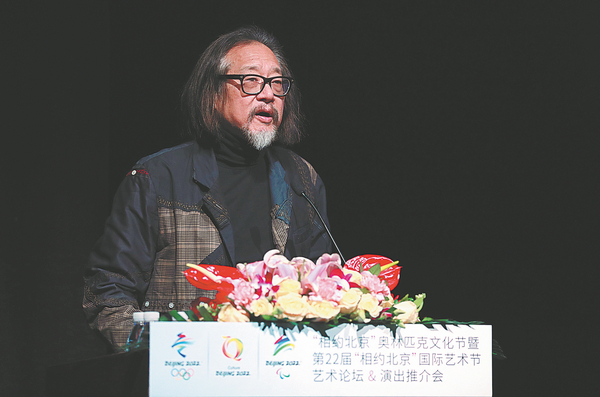 Theater experts gather to discuss industry issues at Beijing arts festival, Chen Nan reports.
What's the mission for a director who works in theater? It's different for every one, but Lithuanian director Rimas Tuminas, who is the artistic director of the Eugene Vakhtangov Theater in Moscow, got his own answer decades ago after suffering from a throbbing toothache.
Then a young drama student, Tuminas went to see a dentist early on a rainy morning. While waiting to be seen, Tuminas saw an old woman through a big window, walking laboriously through the rain.
"She walked and stopped for a few minutes to take a break. One thing came to my mind: 'Who is enduring the most pain at that moment? Me or that woman?'" recalls Tuminas.
Soon, the dentist put an end to Tuminas' toothache, but the image of the woman remained, as he wondered about her feelings at that moment, about what happened to her after she arrived at her destination and even later in her life.
"The mission of a director working in the theater is to fully immerse themselves in a particular story and feel what the characters feel, express what they want to express. It's about telling other people's stories," says Tuminas, who later created a character based on the woman he saw.
He shared the story during a three-day forum, held from Friday to Sunday, titled Arts for a Shared Future, part of the ongoing 22nd edition of Meet in Beijing International Arts Festival.
Held at the Inside-Out Theater in Beijing, the forum gathered over 30 experts working in the field around the world to explore topics such as the development of theater amid the COVID-19 pandemic, the sector's relationship with technology and children's theater.
Tuminas, 70, was born in Kelme, Lithuania, and studied at the Conservatory of Lithuania from 1970-74. In 1978, he graduated from Russian Institute of Theater Arts. From 1979-90, he worked as a director at the State Academic Theater of Lithuania. In 2007, Tuminas took the helm at the Eugene Vakhtangov Theater as its artistic director.
In 2017, a play, titled Eugene Onegin, directed by Tuminas and performed by the Eugene Vakhtangov Theater, opened the Wuzhen Theater Festival, an annual event held in the ancient water town in Zhejiang province. Later, the play was staged in Beijing and Shanghai.