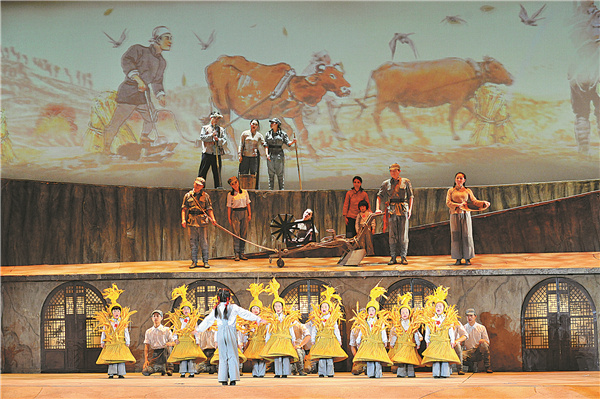 Touching tales
While summer vacation is a peak season for tourism, the sudden outbreak of COVID-19 in Zhangjiajie, Hunan province, led the city to temporarily close all scenic areas. Local citizens were confined to their homes and all communities adopted closed-off management.
Zhangjiajie's scenic spots are known for their stunning karst scenery with distinctive views throughout the seasons.
The sudden closing was a heavy blow for the city's pillar industry of tourism, which was counting on the peak season for recovery, but it's a decision that had to be made, so as to prevent the pandemic from spreading to other regions.
Zhangjiajie's authorities wrote a sincere open letter to visitors, persuading them to get tested for COVID-19 at exclusive spots three times before leaving the city, for the health of themselves and others. The city offered all necessary help to visitors, including a 24/7 consultation hotline.
The city's scenic areas released a group of posters of their picturesque views, which went viral online, with touching messages on them inviting travelers to visit the city again when the COVID-19 situation was under control.
Netizens spoke highly of Zhangjiajie's actions because of "the warmth" they contained.
Indeed, the tourism industry in China has been influenced greatly due to the ongoing pandemic, yet those who still work in the industry stick to their posts, ensuring rights and interests and the safety of visitors.
For the convenience of visitors, travel operators, airlines, hotels and scenic areas offer special policies of refunding, postponing and changing tickets, targeting those who were affected by the situation.
On the night of Oct 31, while marvelous fireworks were exploding above the romantic castle at Shanghai Disney Resort, medical staff were working hard to take on-site nucleic acid tests for tens of thousands of visitors before they could leave the theme park.
That was because the resort had to deal with an epidemiological investigation related to other provinces.
As Sichuan-based news outlet Red Star News reported, tourist Xiao Hong (pseudonym) said that everyone remained orderly and lined up patiently and that working personnel looked after pregnant women and children when they were in need.
She said many visitors were dressed up in costumes because it was Halloween. It was an indelible experience for them to take the test and watch fireworks at the same time. She was satisfied with the prompt and well-organized measures.