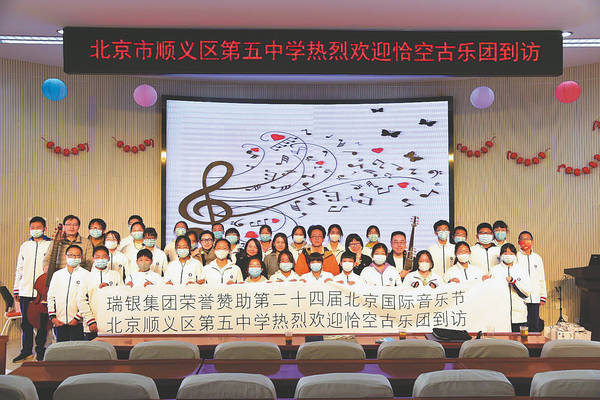 Swiss financial giant UBS has sponsored the Beijing Music Festival, or BMF, for 17 years, to promote musical talent in China and enhance cultural connections among musicians from around the world, said Eugene Qian, chairman of UBS Securities.
"We are proud of UBS' long-standing relationship with the BMF, founded in 1998, and the role our organization has played in the festival's growth and development," Qian said.
This year, UBS sponsored a special concert under the theme of A Latino Fiesta on Oct 19. The concert, held at a live music venue in Beijing's Sanlitun area, was performed by renowned Chinese singer Cheng Fangyuan and five talented musicians.
Cheng, a Beijing native, rose to fame in 1981 as a pop singer-songwriter. With more than 10 albums under her belt, Cheng has scooped up numerous music awards, including the Golden Record award, the highest honor in China's record industry.
During the concert, Cheng performed songs she wrote herself or that she had adapted from much-loved classics, including L-O-V-E, written by Bert Kaempfert and Milt Gabler and first released by Bert Kaempfert in 1964, and My Favorite Things from the classic musical The Sound of Music. She has introduced musical marvels covering a diverse range of styles, such as jazz, bossa nova and pop, to audiences.
"Cheng keeps the legacy of classic songs alive by performing great music from the past, bringing timeless songs to audiences with renewed energy and modern interpretations," Qian said.
In addition, UBS sponsored a period music performance by the Shanghai Camerata, China' s first historically informed contemporary Baroque band.
Founded in 2016, the Shanghai Camerata is a dedicated group of musicians who focus on music from around 1600 to 1750. "Through their exquisite mastery of period instruments, the group performed early music on classical instruments, honoring the continuation and sustainability of traditional sounds and fine instrument craftsmanship", Qian said.
The group has also opened the concerts up to a wider audience through online livestreaming.
Being dedicated to its long-standing role in corporate social responsibility and giving back to society, UBS hosts a series of accompanying programs for its staff members and community groups. The Shanghai Camerata was invited by UBS to visit Shunyi No 5 Middle School and introduced the period instruments to inspire and create cultural dialogue among new and diverse audiences. And Cheng was welcomed to have a lunchtime talk with staff members at UBS' Beijing office.
These "help to strengthen the staff's interest in and understanding of music and to encourage learning from the experience of people from different industries and backgrounds", Qian added.
UBS has a history of supporting cultural endeavors across the world, connecting people around its shared passion for art, culture and collecting, and bringing together inspiration and new perspectives to enrich lives, the company said.
In China, besides the BMF, UBS has been a lead partner of the West Bund Art& Design since 2020. The fair was held from Nov 11-14 and UBS presented the exhibition Reimagining: New Directions in the UBS VIP Lounge, which featured recent acquisitions from the UBS Art Collection. The collection is considered one of the largest and most important corporate collections of contemporary art in the world including more than 30,000 contemporary works encompassing paintings, photographs, works on paper, sculptures, installations and video or digital art.
"We believe that artists are the spokespeople of our time and that art has the power to reimagine, connect and empower us to build a better world," Qian said.
The show included a work by Yin Xiuzhen, whose work hints at the growth in consumerism. Through the use of worn clothes or objects as artistic materials, her practice incorporates elements of sustainability through the act of upcycling clothing.
"We are also fortunate to have artworks by internationally acclaimed artists from the UBS Art Collection on display in our offices, including Ding Yi, Chen Wei, Hong Hao and Anish Kapoor," Qian said. "Next year, UBS will continue to sponsor the Art Basel Hong Kong during March 24-26 as a lead partner."
Back to business, Qian said UBS has been playing a key role in providing international investors with access to China and helping Chinese investors to go global.
"Our strategy in China is to take advantage of the continued opening of the country's financial market to further enhance our leadership position held by our investment bank and to expand our wealth management and asset management businesses.
"We have long sought to do so, as can be seen by the fact we were the first foreign bank to own a majority stake in a local securities joint venture," he said. UBS was the first foreign institution to be classified as a qualified foreign institutional investor in China dating back to 2003.
In 2006, UBS Securities was formally established and became the first foreign-invested fully-licensed securities company in China.