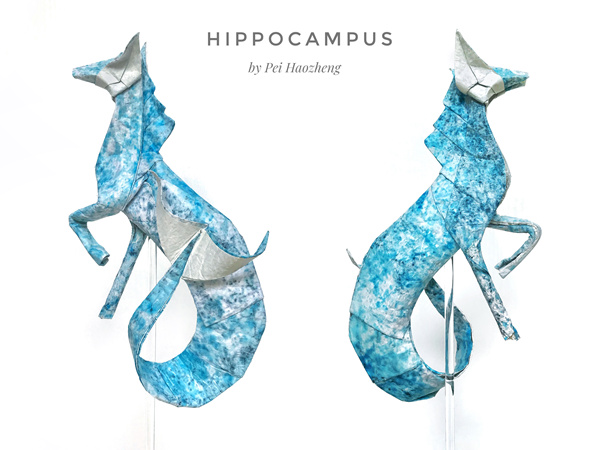 With no one to consult, Pei taught himself through origami theory books, such as Origami Design Secrets by Lang. As the quantity of his work grew, so did the variety and quality. His efforts paid off and during the senior middle school period, Pei began to create unique designs.
Pei once spent a year designing and creating a 60-centimeter-tall work featuring an angel with six wings folded from a 2-meter-long square sheet of paper. It took him numerous attempts to get everything right.
In 2016, then a sophomore at the Huazhong Agricultural University in Wuhan, Hubei province, Pei won a bronze prize at the International Origami Internet Olympiad. The next year, he became the champion in the competition.
In 2017 and 2018, Pei was invited to attend the Chinese version of Super Brain, a competitive reality show on Jiangsu Satellite TV. The show gave him an opportunity to meet Lang, both as judges for the show. Pei made 20 paper models for display there and Lang praised his techniques, Pei says.
Half a year after the meeting, Pei took up the challenge of creating a solar panel in origami style at Forward to the Future, a science show on China Central Television. He successfully built the panel that folds up to 1 square meter-while unfolded, it becomes a structure of 81 square meters.