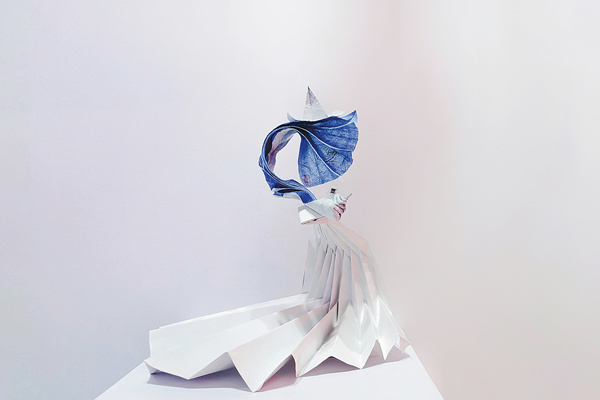 To celebrate the 100th anniversary of the founding of the Communist Party of China this year, the artist created an origami piece titled Yuanhang Bainian ("100 years of sailing"). The work features a boat riding the wind and cresting the waves.
"The boat symbolizes not only the Red Boat on Nanhu Lake, where the first National Congress of the CPC was concluded 100 years ago, but also today's vibrant society," Pei says.
Born in 1996 in Nanjing, Jiangsu province, Pei started folding paper when he was in kindergarten, because paper was cheap and easy to get. At first, he learned folding from teachers and parents, and later he copied the patterns from books. From cranes to planes and fortunetellers, he was fascinated by the "magic world made by paper". Every day, he spent hours folding paper.
Getting better with his folds, he wanted to explore more origami techniques and skills. In early 2007, he came across a diagram with hundreds of patterned lines designed by Robert Lang, an origami master from the United States. It was mind-blowing for Pei, opening a new world of the craft.