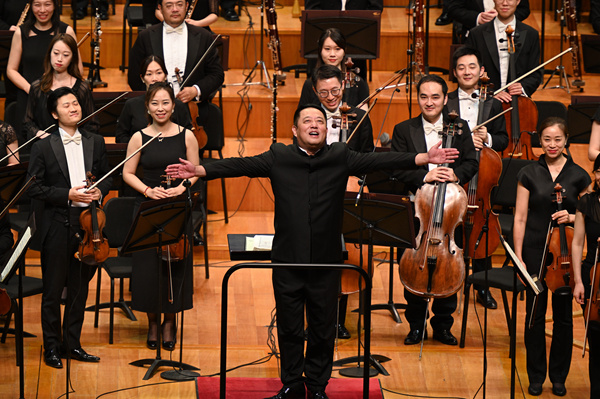 The cellist says he considers himself as a part of the Chinese people, because his wife, violinist Mira Wang, was born and raised in Beijing before she went to study and live in the US. Their children live in New York and Dresden now.
"I've been traveling and performing in Asian countries, which allowed me to know and understand Asian culture. Though the pandemic has brought challenges to travel, we still need to communicate with the help of technology," he says. During the pandemic, the cellist founded a company, named Dreamstage, offering online music content, from classical music to rock and pop. "I hope we can give a sign of lifting some spirits and sending a message that there's creativity and artistic output for people to enjoy," he says.
According to Stefan Dohr, chairman of the Berliner Philharmoniker, who is also a French horn player, a few years before the pandemic hit, the German orchestra launched its online concert program, named Digital Concert Hall, which offers more than 650 concerts, films, interviews and playlists, in addition to regular live broadcasts.
"Symphony orchestras and art institutions have been around for hundreds of years. They have found a way through before and will find a way this time, too, though it's undoubtedly challenging," says Dohr, who has been with the Berliner Philharmoniker for 28 years.
"It's good to see what many arts organizations have already been doing in finding new ways to reach audiences."
He also mentions that despite the pandemic, it's important to train and recruit young musicians.
Today, around one-third of the members of the Berliner Philharmoniker are former students of the Karajan Academy, which will celebrate its 50th birthday next year, Dohr says. Peter Riegelbauer, double-bass player of the Berliner Philharmoniker, is the manager of the academy, and made his debut in China during the Berliner Philharmoniker's tour of the country in 2019.
"For example, we will soon have an audition for a French horn player, which will have 129 applicants competing for one position," Dohr says. "Cultivating young artists in the performing arts scene, especially in classical music, is an existential issue for the future of the field. This issue is unchanged."