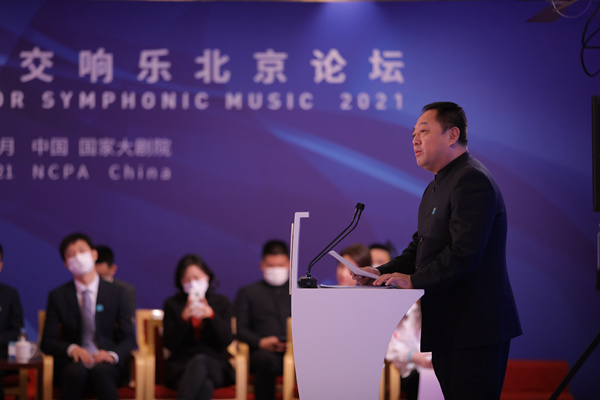 Beijing forum keeps music at the front of vibrant and global cultural exchanges, Chen Nan reports.
With musicians around the world not being able to tour globally due to COVID-19 travel restrictions, filling the cultural exchange gap has become more challenging.
On Nov 29 and 30, more than 100 industry representatives from 70 international art institutions in more than 20 countries got together online during the Beijing Forum for Symphonic Music 2021, discussing and exploring new possibilities for its future development in the face of the global pandemic.
With a theme of "vision and innovation for a shared future", the forum, initiated by the National Center for the Performing Arts in 2019, was held via videoconferencing for the first time to further promote exchanges, mutual learning and the sharing of industry operation experience.
"Our daily lives have been changed by the pandemic," says Chinese violinist Lyu Siqing, adding that many of his concerts were canceled as a result. "For musicians, it's also very difficult to have performances, which is very depressing. I can still recall the moment when I performed in the empty concert hall of the NCPA on July 13 last year, which was my first concert in nearly six months. When I performed in the empty concert hall in front of the cameras, I felt very excited because I was able to perform again. However, it was also a special concert because I had no audience sitting in front of me."
Russian conductor Valery Gergiev, who gave an online speech at the opening ceremony of the forum, says: "I was in Beijing to attend the first Beijing Forum for Symphonic Music, where I met lots of friends and musicians from around the world. It was an unforgettable experience. I have lots of friends in China and I am especially impressed by the young musicians, who are performing worldwide."