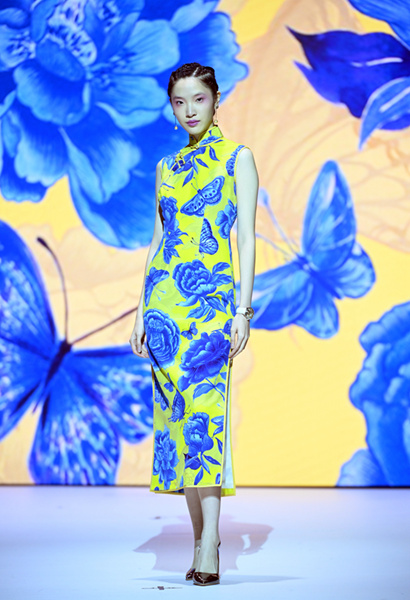 The Hong Kong cheongsam-making technique has been inscribed on the fifth national list of intangible cultural heritage, announced in June by the government, because of its "outstanding historical and cultural value", according to the Hong Kong Special Administrative Region government.
With many of the cheongsam craftspeople now in their twilight years, with less than 10 senior tailors left in Hong Kong, veterans and young designers are trying to figure out a way to pass on the legacy.
While Chun is still teaching cheongsam-making classes in schools, Leung, whose apprentices have either retired or left, can hardly resume the time-consuming task due to his age and health condition.
"The kids and grandchildren all want to learn while having little time and patience. A lot of people knocked on the door and said they are eager to learn, but were all declined," says Leung's daughter, Emba Leung.
To carry on the tradition, fashion designer Mary Yu, 41, who has been attending classes teaching knot button-making techniques, is trying to renew the design of cheongsam by taking cues from Chinese history and literature.
"I feel I should tap into Chinese culture and learn more about the past. People should have an in-depth understanding of their culture in order to move on," Yu says. "Fashion design requires a profound knowledge of one's culture before visualizing it.
"After a period of wearing Chanel all the time, there will be a day when one looks back to traditional Chinese culture, whose subtlety, luxury and elegance have been inherited for thousands of years.
"It is about finding the stuff that exists in your genes and suits you best."
Yu set up her own qipao brand in 2016 at Yue Hwa Chinese Products Emporium in Hong Kong's Kowloon district. Most of the clothes were made by tailors based in Shenzhen, Guangdong province, or Hangzhou, Zhejiang province, for their lower cost and more traditional work.
In the constantly evolving fashion industry, qipao is catching up with the times. Zippers, digital print patterns and new materials such as lace and denim have been introduced to a new generation. More daring ideas like 3D printed qipao have also become a reality.
"Culture should evolve to reflect our time, while holding on to some of the most basic elements, such as knot buttons, the mandarin collar and side slits," says Crystal Hu, president of the Royal Cheongsam Association in Hong Kong and a qipao enthusiast who owns over 200 such dresses in a variety of styles.