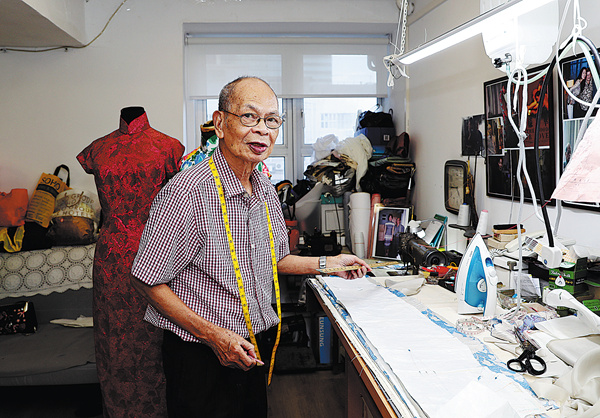 "Cheongsam used to be so popular, as people did not have many options to buy Western-style clothes," Leung says, adding that the dress was an everyday outfit among Hong Kong women, from the less well-off to women at the highest levels of society.
"Now, nobody is wearing them except on grand and happy occasions."
Leung came to Hong Kong from neighboring Guangdong province at the age of 13 before he started his apprenticeship, which seemed to be the only way to earn his daily bread back then.
"I was too little to know what to do, and it was so hard to make a living at that time," he says.
Finishing a three-year apprenticeship making qipao and suits, Leung witnessed the gradual shift of qipao from a dress of ethnic Manchu origins to its blending of Chinese and Western sewing skills in Hong Kong.
The unique dress, which used to have a high neck and straight skirt covering a woman's body, except for her head, hands and feet, in the 1950s became more form-fitting, with a more revealing cut, shorter sleeves, and a high slit up the leg, after the traditional garment was brought to Hong Kong by a group of Shanghai tailors. The glory days of qipao in the 1950s and '60s Hong Kong waned in a time of fast fashion and mass production of ready-to-wear clothing.
"The old tailors have died one by one. As one of the youngest, I'm one of the few who are left," says 74-year-old Chun Ceung-lam, another Hong Kong tailor.
In the 1980s, he ran more than five shops in Hong Kong selling silk and handmade qipao, but now only one remains in operation.
But cheongsam is still a preserved tradition visible at formal occasions, such as wedding ceremonies, movie premieres and the Miss Hong Kong pageant. It still serves as the school uniform in more than 10 middle schools in Hong Kong.
"For decades, it was largely unique to Hong Kong, which kept the tradition alive," says Liu Tik-sang, a professor at the Hong Kong University of Science and Technology's Division of Humanities, adding that the culture preserved in Hong Kong went back to the mainland with a modern twist after the reform and opening-up in the late 1970s.