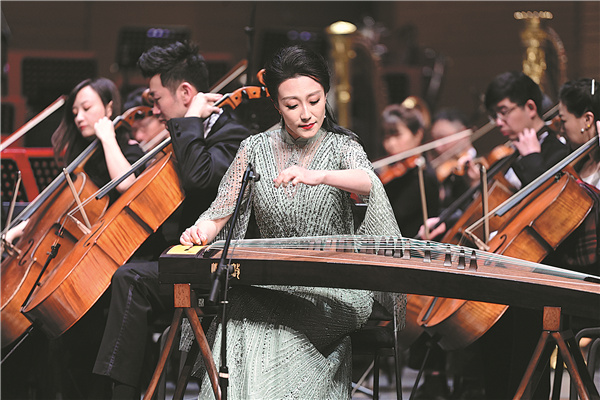 In 1999, Tan premiered his concerto for pipa and string orchestra. With the new arrangement, he combined the four-stringed lute and the Chinese zither with a symphony orchestra.
"Even two days before the concert, I was busy revising the music scores. I wanted to present a sense of nostalgia and the spirit of vibrancy of traditional Chinese musical instruments," says Tan.
Born and raised in a village in Hunan province, Tan trained first at the Central Conservatory of Music in Beijing, and later moved to New York.
He has composed operas, symphonic works, concertos and choruses. His film scores include the Oscar-winning soundtrack for director Ang Lee's martial arts movie Crouching Tiger, Hidden Dragon (2000) and Zhang Yimou's Hero (2002).
The China Philharmonic Orchestra has announced that it will perform Tan's composition Buddha Passion under the baton of conductor Yu Long on Feb 27. Inspired by the Mogao Caves, this monumental work, sung in Chinese and Sanskrit, is scored for seven soloists, choir and orchestra.
Zou Shuang, artistic director of the Beijing Music Festival, says the festival brought 24 concerts under the theme "masters and celebrations" this year.
The festival also marked significant milestones, such as the 280th anniversary of the death of Italian composer Antonio Vivaldi, the 100th anniversary of French composer Camille Saint-Saens' death and the 110th anniversary of the birth of Chinese composer Ding Shande.
Chinese composers, including Tan, Guo Wenjing and Chen Qigang, were highlighted during the festival.
"It has always been our wish to bridge Chinese and Western music with programs designed to promote communication between different cultures," says Zou.