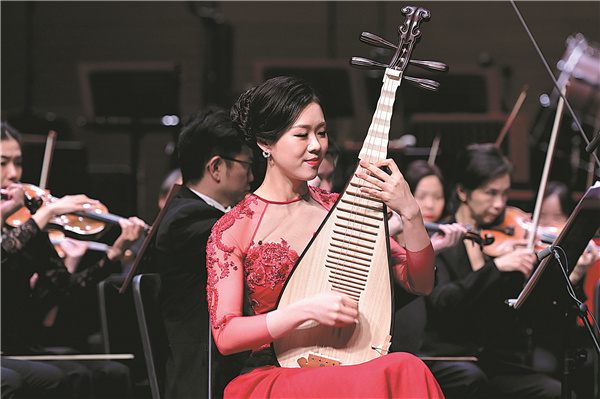 Tan's Fire Ritual is influenced by ancient ritualistic and court music. In 2018, he premiered the piece, composed for two orchestras representing people and nature, in Norway. He wrote the piece for all victims of war.
For the erhu concerto, Tan used the two-stringed fiddle to replace the violin. Xiqin, a three-stringed fiddle, which is considered the ancestor of erhu, was also featured in the piece.
Tan recalls that he first saw xiqin during a trip to Dunhuang in Northwest China's Gansu province that is home to the Mogao Caves, a UNESCO World Heritage Site. The caves have a large number of murals, which date back to the fourth century.
"I tried to replicate musical instruments I saw on the murals," says Tan, adding that he took photos of one such instrument, xiqin, and went to Quanzhou, Fujian province, to get it made.
The city, on the ancient Maritime Silk Road, is a base for making such instruments, and Tan has successfully brought xiqin back to the music scene.
Lu Yiwen, who is a teacher at the Shanghai Conservatory of Music, performed in the closing concert at the Beijing festival on Tan's invitation.
"Though the basic techniques of playing erhu and xiqin are similar, I spent a long time playing xiqin, especially on controlling the sounds made by the third string," says the 30-year-old musician who plays both the instruments.
The erhu concerto was dedicated to people who died due to COVID-19.
"The pandemic is like a war, during which many people died. I hope the music was able to comfort the audience," Tan says.
Tan's other work was performed at the concert by pipa player Han Yan and guzheng player Su Chang.