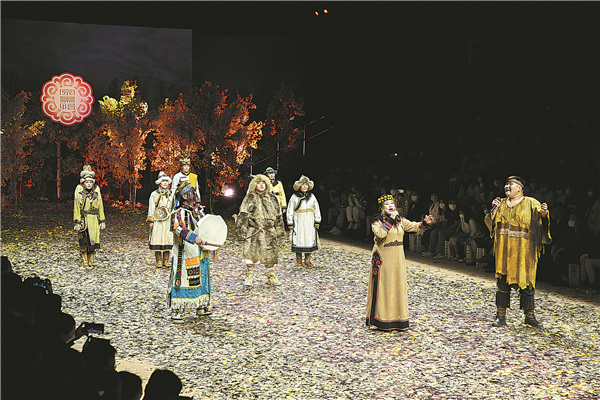 In 2017, Jin decided to quit her job and set up her own studio because the demand for ethnic suits grew.
"People are eager to look and wear different from others nowadays. The demand for costumes also comes from those outside the ethnic groups."
There are many clothes on the market with elements based on cultures of ethnic groups, but good designs that are liked by both community members and those outside it are rare, she says.
"To make a perfect design, one has to know deep about the culture instead of staying on the surface," Jin says, adding that her identity as a Daur member helps her to better understand ethnic cultures.
Ao Yanming, a friend of Jin, says Jin has a strong sense of pride in her identity, which drives the designer to keep innovating designs.
"She is so passionate when it comes to making costumes that she can work for days with little rest and still be energetic," says Ao.
Jin says she hopes to help more small ethnic groups with fashion design.
Many elements they use in clothes are similar, such as images of animals, plants, flowers and others inspired by nature. The difference lies in how these elements are designed and made to suit the environment they live in, says Jin.
Her ambition is to design clothes based on styles of all 56 ethnic groups in China.