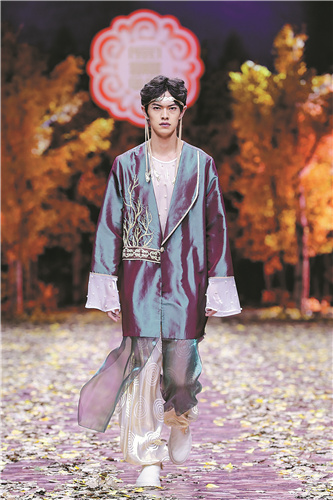 Jin says instead of only wearing such costumes on special occasions such as festivals, many people are wearing them in daily life to showcase their identity, personality or just be different from others. "Tailored clothes for a family, from children to the old, are very popular among ethnic groups in Inner Mongolia currently."
Daur culture
Jin's passion for design can be traced to her teenage years. When she was in middle school, she began to paint, especially clothes that she saw in magazines and on TV dramas. She also studied fashion design in college. Before setting up her own studio, Jin worked for a State-owned company in Beijing for 15 years. But she never gave up her design dream. She redesigned clothes for many of her colleagues and made costumes and accessories when her peers asked.
Jin was approached by other members of the Daur community. A singer once asked her to make a head accessory for a TV show. The one Jin made was praised when the singer wore it. Following that, more and more people turned to her to request accessories and costumes.
"When other people enjoyed their weekends, I was busy searching for materials in markets or making clothes by hand at home," says Jin.
She says she once received a call from an athlete asking her to design clothes for a competition. At that time, Jin had just given birth to her baby but she agreed to help the athlete from her bed.
"As a member of the Daur group, I feel it's like a duty for me. I had to make the costume for her," says Jin, who now has three children.