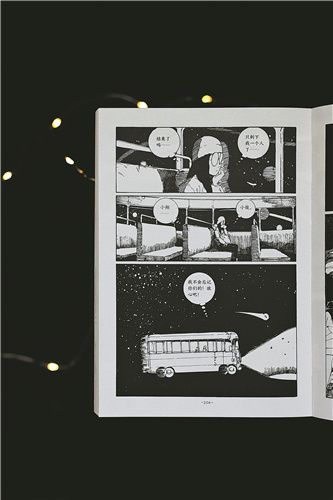 Looking around the area where he spent his childhood, Zou got inspired. In 2013, his comic book Walk was published. It includes 10 short stories he created from 2008 to 2013, connected to his own experiences and reflection.
In one of the stories, titled Cat Boy, an unappreciated artist sees himself as a stray cat in danger of being drowned; another piece, A Story of Fireworks, revolves around a Spring Festival tradition that is later banned to reduce air pollution; and in another, Walk Alone, an old woman refuses to leave her countryside house and live with her grandson in the city, while the grandson thinks "the village is no longer the same as it is in his memory", where only the elderly and children live and bulldozers have flattened the hills.
Zou inks his drawings on paper, focusing on long-form narratives.
"My work concerns reality, because there are so many things and issues worth drawing and recording in China," he says.