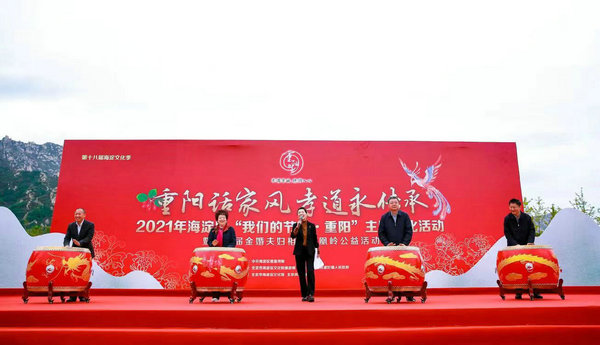 More than 100 senior residents in Beijing's Haidian district attended a cultural activity held in the Fenghuangling Natural Scenic Spot on yesterday, which marked the Chongyang Festival, or the Double Ninth Festival.
The festival, which falls on the ninth day of the ninth lunar month, is a day for paying respect to the elderly.
The activity provided the elders an opportunity to enjoy tea and sample festive desserts while watching singing and dancing performances that highlighted the importance to respect and honor the aged, a traditional virtue of Chinese people.
The event was mainly held by the bureau of culture and tourism of Haidian district. Chen Jing, director of the bureau, said it's the responsibility of society as a whole to love and help the aged group. The district has spared no effort to offer public cultural facilities for the elders and actively organized training sessions where senior citizens can learn various art forms for self-entertainment.
"Art troupes have also been frequently staging performances in communities and nursing homes to enrich the elders' spiritual and cultural lives," Chen added.