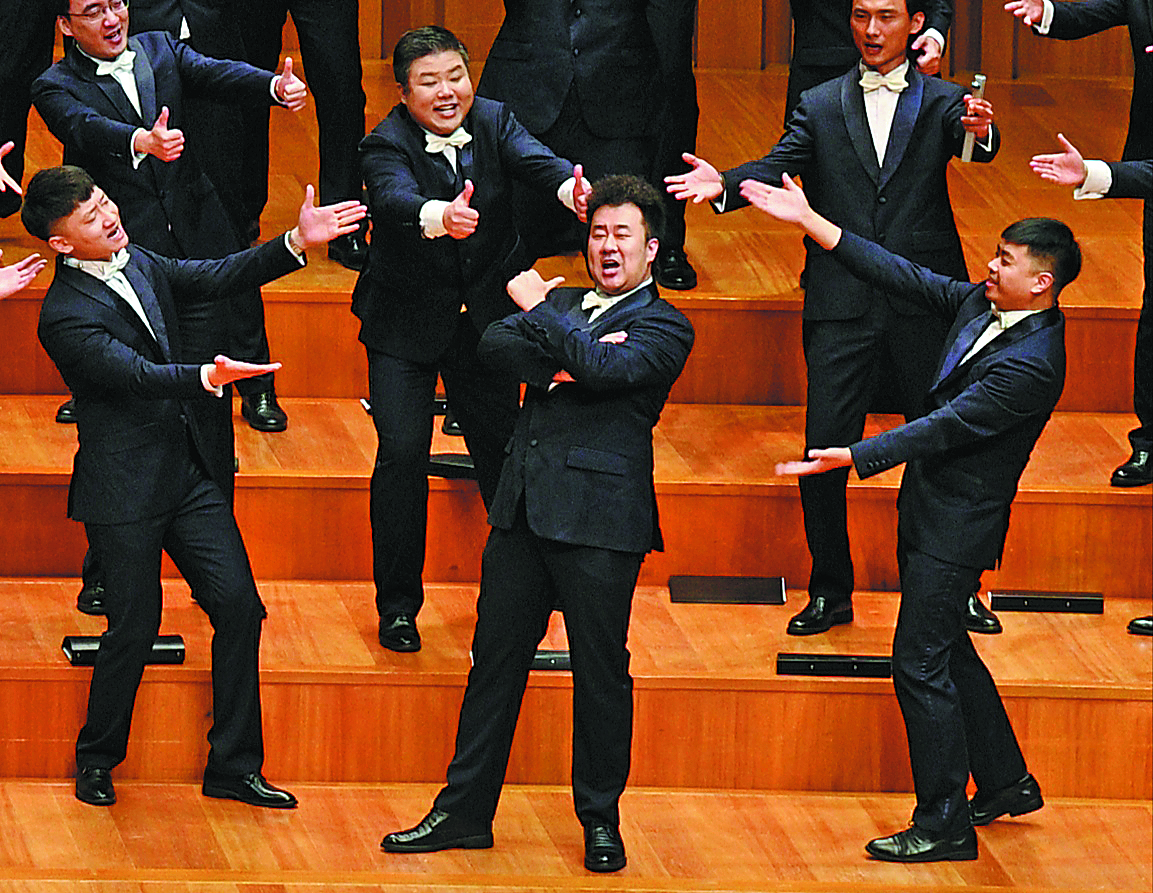 Growing fans
Tenor Yang Guangmeng performed the role of Black Cat Detective for the chorus. Born and raised in Chifeng, Inner Mongolia autonomous region, he graduated with a degree in singing from Tianjin Normal University in 2007 and joined the NCPA chorus in 2009.
"I was very excited and read messages left by the viewers, which were touching," the 37-year-old says about the response to the video.
The song, though from an old cartoon series, still wins audiences because the message it delivers is positive and powerful, Yang adds.
The tenor notes that the chorus also rapped for the first time during the performance, which was challenging yet proved to be successful. The lyrics of the rap not only express a longing to return to childhood but also encourage people to face difficulties in daily life with courage and confidence.
"As children, we lived carefree lives. As adults, we have lots of pressure and need to be brave. We not only want to bring great music to audiences but also to comfort them," Yang says.
According to Wu, it has been her longtime wish to promote a choral culture in China because she believes that "singing releases tension, feeds the soul and opens the heart".
The NCPA chorus was founded to meet the demand of the company's opera productions. Since it opened to the public in December 2007, the NCPA has attracted musicians from around the world and produced both Western classic and Chinese operas.
"We recruit singers from all over the country. Unlike other choruses, members of the China NCPA Chorus receive training for both singing and acting because one of their main jobs is to perform in operas," says Wu. "The ability to act makes them versatile."
Li Tinglei, 30, joined the chorus in 2015 after he graduated from the China Conservatory of Music's vocal arts and opera department.
"Many schools, from primary schools to universities, have choirs that make choral singing popular among Chinese students. This is also a major source of entertainment for retired people. There are many amateurs singing in parks and communities. That is why we have many loyal fans watching our concerts," says Li.
"Besides enjoying our singing, they come to learn new songs."