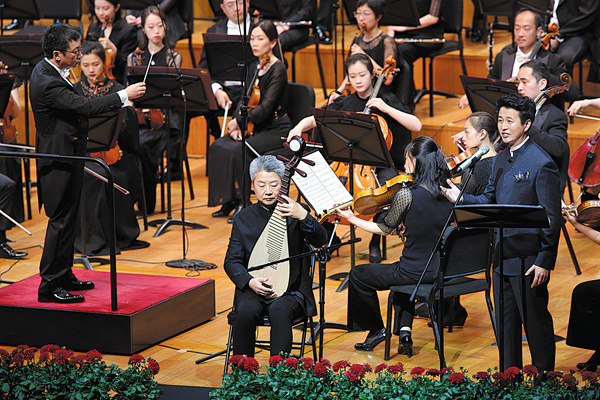 Both the orchestra and chorus of the China NCPA have announced their upcoming schedules with 117 performances for the 2021-22 season. It includes symphonies, chamber music events and operas, with a lineup featuring Chinese artists.
On Sept 17, the China NCPA Orchestra and Chorus performed under the baton of conductor Li Xincao with a concert opening the new season. This saw performances by pipa player Zhang Qiang, baritone Wang Haitao and soprano Zhou Xiaolin. The concert also included Chinese composer Zhao Jiping's Red Star Over China from the symphonic suite Yan'an, composer Bright Sheng's pipa concerto Nanking! Nanking!, and the classic music piece, Yellow River Cantata by composer Xian Xinghai (1905-45).
According to conductor Lyu Jia, who celebrates the 10th year of his tenure as the orchestra's musical director, the theme of the new season is Xin You Hao Yao, which means "glows from within". The Chinese phrase hao yao means "bright sunshine" and "white light".It reflects the orchestra's mission to spread light through music, says Lyu.
"Artists are lucky to enjoy the light from art. I always want to share the joy of music with audiences. Through our performances this season, I hope more people will feel the extraordinary light brought by music," says Lyu.
Ren Xiaolong, China NCPA Orchestra's chief executive officer, agrees. "The light provides hope for people in challenging times."
Ren also reviewed the last performance season of the orchestra and chorus, which he describes as "full of challenges and surprises amid the COVID-19 pandemic". Over 130 performances, held both online and in front of live audiences, were staged in 17 months. The orchestra embarked on its first nationwide tour and its international cultural exchange programs continued online throughout the season, including co-presenting a concert with the Royal Philharmonic Orchestra from the United Kingdom.
Due to the pandemic, international artists cannot travel to China to perform with the orchestra. Ren says that the country has maintained a regular musical calendar largely due to the talent and responsibility of Chinese musicians.
"It is a test and a showcase opportunity for Chinese musicians. From conductors, performers to composers, many Chinese artists have been performing actively since the pandemic hit in early 2020. Audiences, who usually expect superstars of classical music from around the world, are looking at Chinese musicians and we are proud to say that Chinese musicians have been doing a great job," says Lyu.