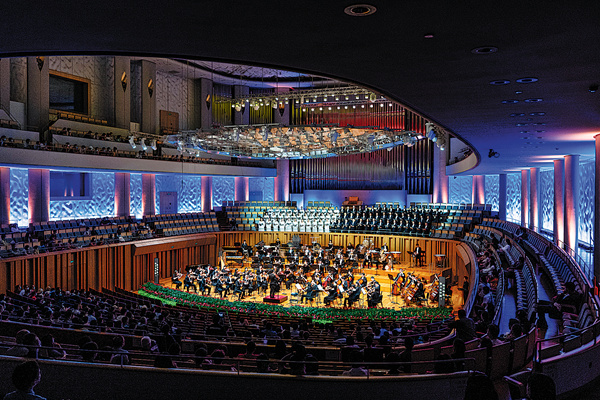 During the new season, Chinese conductors, including Chen Lin, Yu Feng and Zhang Guoyong, will perform with the orchestra in 38 concerts. Chinese musicians, including pianist Zhang Haochen, Zhang Lu, violinists Lyu Siqing and Huang Mengla, cellist Nie Jiapeng, oboist Liu Mingjia and percussionist Bai Weiqi, will also be performing. The China NCPA Chorus, led by conductor Wu Lingfen, will present 17 concerts, bringing a wide range of repertoires including Chinese classics, opera selections and folk songs.
With a commitment to present and promote the innovation of Chinese music, the China NCPA Orchestra continues with the Sounds of China series during its new season. The series features guqin master Chen Leiji, pipa player Zhang Hongyan, erhu player Lu Yiwen, in new works by composers Chen Qigang, Bright Sheng, Julian Yu, Zhou Long and Tan Dun. Composer Huang Ruo's music piece, The Butterfly Exchange, a jointly commissioned work by the orchestra and Netherlands Radio Philharmonic Orchestra, will have its world premiere.
Six works by Chinese composer Zhao Jiping are featured in the orchestra's Composer-in-Focus series. Alongside Zhao's famous musical works, including The Silk Road Fantasia Suite, Pipa Concerto No 2, and Red Star Over China, his new work, Cantata Story of Hua'er, will have its world premiere, and will be performed under the baton of conductor Zhang Guoyong.
Marking the 50th anniversary of Russian-born composer Igor Stravinsky's death, the orchestra will also perform works including Concerto in E-flat (Dumbarton Oaks) and Violin Concerto in D major, which are rarely performed in China. Masterpieces set to feature this season include Gustav Mahler's Symphony No 6, Franz Schubert's Rosamunde, D 797, Op 26, and Dmitri Shostakovich's Symphony No 5.
Over the past 10 years, the orchestra has formed many quartets and ensembles exploring a wide range of chamber music. Following the first China NCPA Orchestra Chamber Week during the last performance season, the orchestra will present a new series headlined by artistic advisers Weigang Li, Liu Mingjia, Han Xiaoguang, and the world-renowned Shanghai Quartet.
"Compared to many established orchestras in the world with a history of more than 100 years, the China NCPA Orchestra is still very young. When I started to work with the orchestra, I saw young musicians with vibrancy and passion. We achieved many things together," says Lyu. "Now the musicians are mostly in their 30s and have gained more life experience, which allows them to digest and interpret music works with a deeper understanding. We will surely create more adventurous and meaningful things in the next 10 years."