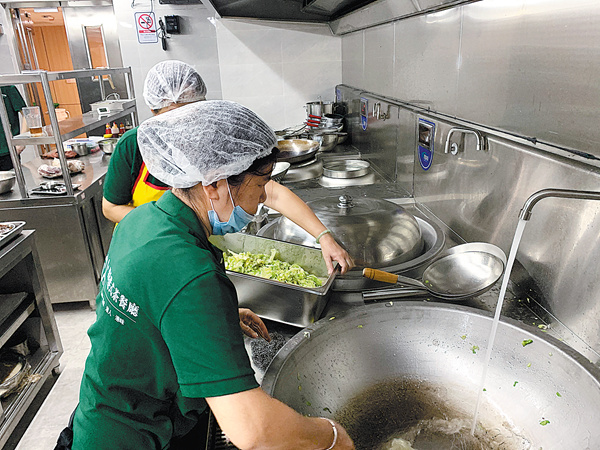 Patients and guests
Some of the elderly patients he delivers food to are so pleased with his services that on getting discharged from the nursing homes they turn up at his restaurant with their families, including some younger members. He is ever grateful to these senior citizens who are helping increase his clientele.
"The mainland offers many preferential policies for people from Hong Kong, and I wanted to grab the chance," Cheung said. He has done well for himself. His restaurant has carved a place for itself in the past four months. His signature dish is roasted pork fried rice. "Some of my guests once told me that they drove around 30 km to savor the dish," he said.
Then there are others who are fans of his rocky bun with butter. One sexagenarian surnamed Lin arrives almost daily with his wife, who can't walk properly, to have the rocky bun.
Cooking and doing charitable work have brought Cheung a lot of happiness. In fact, he is doing so much work since leaving Hong Kong that he likens himself to a "Hong Kong youth", complete with their positivity, though he isn't getting any younger.
Of course, his family members have been a great support. "I designed the restaurant's layout, while my wife helped me decide the menu and choose the crockery," he said. "I'm confident that in the future the Greater Bay Area's economy will be one of the biggest in the world."
As to his restaurant, Cheung is satisfied and not looking for overnight success. "I do have some expectations, though. Maybe the authorities can help more senior citizens come and dine at our restaurant," he said. "It'll also help if the government gives allowances for purchasing vegetables and fruits to those of us who are providing food to the senior citizens."