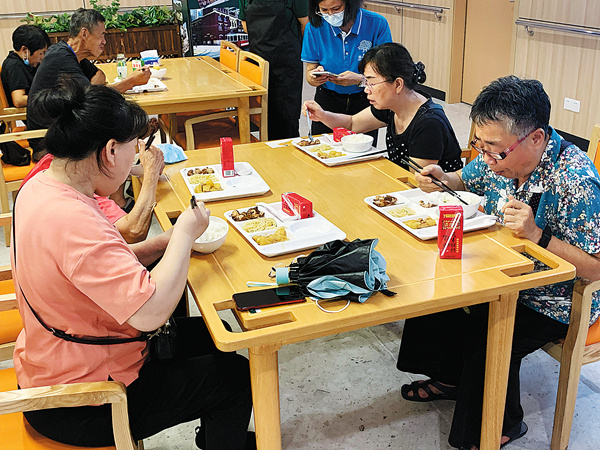 Two sets of clients
Cheung loves to cook and his restaurant offers everyone a taste of Hong Kong. In fact, he has two sets of clients-those who visit his restaurant and those whom he delivers the food himself.
Around the time he was setting up his restaurant, his friend, who runs a nursing home on Zengcheng's Yongning Street, asked him if he would be willing to provide food to patients aged above 60 there.
Cheung thought it was a good idea. "It is my pleasure to do this social work by joining an official program promoted by the Guangzhou government."
Guangzhou residents aged above 60 are entitled to a 12-yuan ($1.85) government allowance for lunch from Monday to Friday.
The senior citizens make use of this allowance to order lunch from a nearby restaurant. If they are admitted to a nursing home, they opt to have the meal delivered there.
Cheung is one of many who have joined this government program to supply food to these senior citizens.
He uses the free time in the mornings to prepare special meals for these elderly people. That's not easy. He has to be careful. The food has to be light and healthy.
"The food is either steam-cooked or stewed," he said.
Week days are real busy for him. "Every Friday, I share a menu for the week ahead over the WeChat messaging app."
The senior citizens place their orders one day in advance. Meaning, they order on Sunday for Monday and on Monday for Tuesday, and so on.
"On receiving the orders, I check on my supplies of rice, vegetables, meat, fruits and yogurt," he said. If he needs to buy something, he sets out early the next morning, around 5-6 am.
By 8 am, he is all set to prepare lunch for some 110 senior citizens. The senior citizens have specific tastes in food and it is difficult to please them all. But he tries his best. The food is light, so he sends something spicy alongside for those who like it spicy.
"I start packing the food around 10 am and deliver them to six nursing homes," Cheung said. "Some nursing homes are 2-3 kilometers away while the farthest one is 10 km away."
His wife looks after the restaurant while he is doing his good deed first thing in the morning.