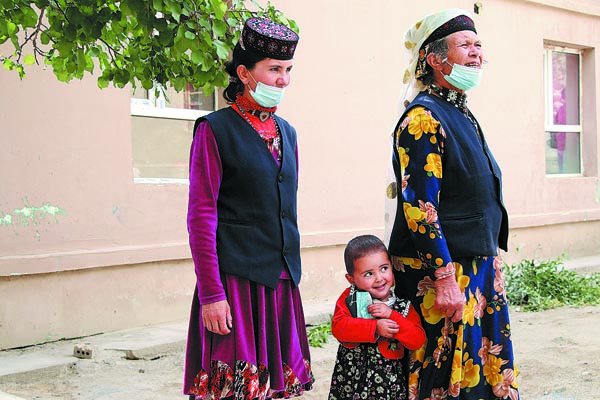 For us, the trip to Tashikurgan Tajik autonomous county, which is situated in the far west of Northwest China's Xinjiang Uygur autonomous region, was long awaited.
Its remoteness, the dramatic sceneries of the Pamir Plateau where it is located, and the vibrant culture of the Tajik people who have lived there for centuries have formed the appeal the county holds for me.
The allure became even stronger when I was informed that I could also visit one of the county's remotest villages, Pile, which is 186 kilometers from the downtown area of Tashikurgan.
We departed from Urumqi at 11:00 am to fly to Kashgar Airport, and then took a nearly six-hour-drive from Kashgar to the county.
As we approached the county, the air became cooler, enough to give me a shiver every time I rolled the window down.
Toward evening, we arrived and checked into a hotel in the central part of Tashikurgan.
The next day, at 9:30 am, we met the 25-year-old Tajik driver Musajan who would take us to the secluded Pile village nestled within the craggy, lofty Kunlun Mountains.
He was a reserved, shy man with steady hands. He navigated us through the Panlong Ancient Road which winds around the rolling mountains like a ferocious dragon. Driving on the road, he kept his focus as he turned right and then turned left for several hundreds of times. This unique road with its artistic curves has made it a popular tourist attraction in Tashikurgan.
Musajan proudly told us that he has been driving this road for three years and knows how to make smooth turns to prevent passengers from feeling carsick.
He has a pair of sharp eyes which enables him to quickly locate marmots on the slope. He asked me to take photos.
As we got deeper into the mountains, we could see Tajik people in pairs or threes cutting and collecting grass which they would bring back home to feed the cows, sheep and yaks they're raising.
One time, we came across a mother and her son who walked along the road we were on. Musajan gave them a ride.
Every time when we got off to take a rest, our young driver, in a chic denim jacket, would greet strangers and sometimes make small talk.
They talked in Tajik language that I failed to understand, but I could feel the bond among people within their ethnic group.