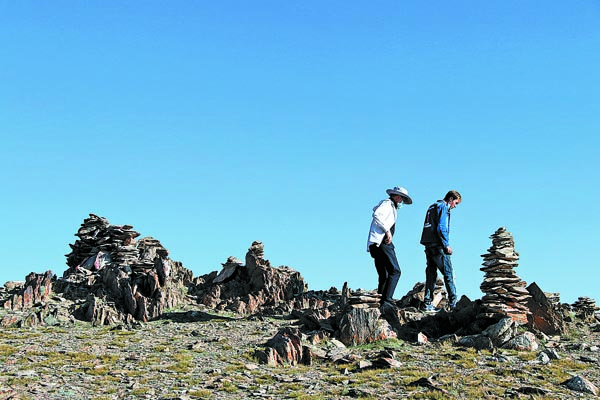 After more than five hours, I saw the fast-flowing current of the Yarkant River, one of the headstreams of the Tarim River. I knew then that we're nearly there.
The wide, surging river used to hinder villagers in Pile from frequently going out. They had to be dependent on a ropeway, a lifeline that helps them to cross the river and transport stuff.
As there was not enough road decent for vehicles, they had to ride camels for several days to go to nearby towns, to go to school or purchase daily necessities.
However, some roads leading to Pile village were widened and paved by the local government in 2013. And in the next year, bridges were built to connect it to the outside world.
After a half day's work, it's too late for us to travel back to our hotel in Tashikurgan. We decided to find lodging for the night in someone's home.
Alimhan, a sweet, gracious Tajik woman in her 40s, showered us with hospitality and welcomed us into her home for the night.
She is a single mother with three children-two daughters and a son.
The Tajik people follow a nomadic lifestyle. Alimhan often wears the traditional, colorful hat and garments of the Tajik people. She would milk the sheep and cows three times a day and go out to herd the animals daily. The family would cook milk tea every morning and eat homemade nang bread as breakfast. Although they have tap water at home, they still keep the good habit of saving water, which they learned from tradition, in case there's no water in the village. People are so simple and can be trusted. Every household can leave the door unlocked overnight.
On the other hand, a sense of modernity is slowly finding its way into the village. Eye-catching posters of the basketball player Kobe Bryant can be found on the wall. Her son is a fan of the legendary player. Alimhan would browse the hilarious video clips on the short-video-sharing platform Douyin till midnight. Her daughters' faces would blush when we talked about their favorite pop idols.
As the evening wore on, we all turned in for the night.
Listening to the babbling sound of Yarkant stream, I soon sank into a deep sleep.