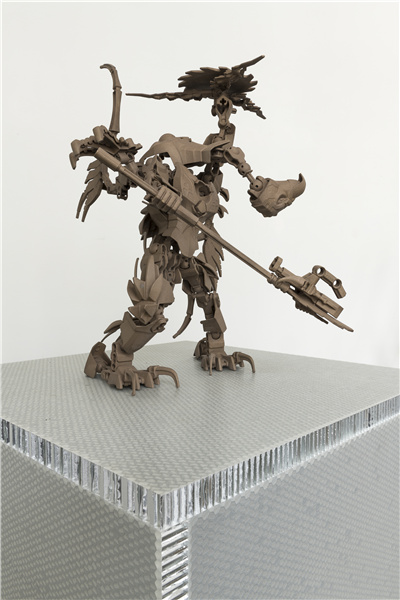 Walking on the galleries' printed carpet, which shows the 3D-scanned UV texture of a cow's carcass, viewers can't help thinking about the gory mess after a bloody battle of those heavily armed Chima warriors.
The exhibit's titular artwork, Foreign Object Debris, features a pair of 3D printed robots made by KUKA, a German manufacturer of industrial robots. The snake-shaped artificial beings, instead of performing their duties on the assembly line, crane to kiss each other, filling the gallery with romance and passion.
Aside from showing the artist's interest in industrial manufacturing, food production, transportation, environmental protection, the exhibit also highlights his concern about consumer culture, an issue he has tackled in many of his other creations.
In Neuroeconomics, a colorful, fancy ready-made Barbie doll house is placed on a honeycomb aluminum plinth. With broken walls and devoid of delicate Barbie dolls, the structure is no more than a ruin that can hardly inspire people's consumption desire.