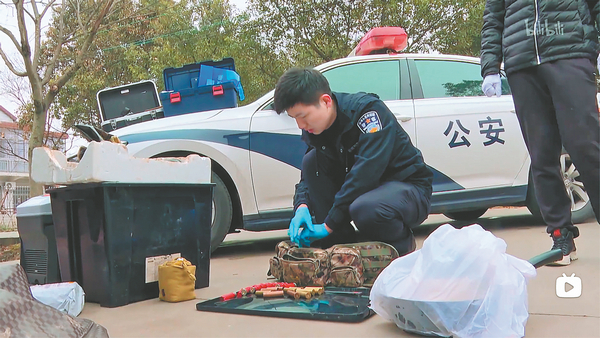 "It is said that cracking down on criminal cases is the natural duty of the police, so these officers can be regarded as a core force of the police, using state-of-the-art technology in their investigations. We try to make a breakthrough by showing their stories this season," says Cai.
She feels as if she is "walking on eggshells" when making the production. "I believe we need to shoot with propriety, and pay attention to the pace of the stories we tell in making a police documentary."
During filming, they were careful not to interfere with the police work or damage crime scenes. They tried to make sure the editing process respected boundaries. "Programs about law-enforcement can easily be turned into something sensational. But since such cases are often related to people's lives, and sometimes their suffering, we want to take them seriously and show them from the angle of public issues, so we remained especially careful," says Cai.
In terms of the pace of the work, Cai says they arrange four to five cases in an episode of about 50 minutes. They select from the more than 310 cases they recorded over six months, much more than traditional law-enforcement programs, in which one episode usually focuses on only one case. They highlight the key moments of each case, like interrogations, during which the police and suspects clash.
In the first two seasons, crew members adopted some editing approaches often used in reality shows to make the work amusing and attract young people, but, in this latest one, they tend to portray the stories in a more serious way.
However, they still made the design of one segment similar. Viewers see four different scenarios they may experience in daily life, one of which is a communication fraud. People can try to guess which one is fraudulent and then see the relevant explanations.