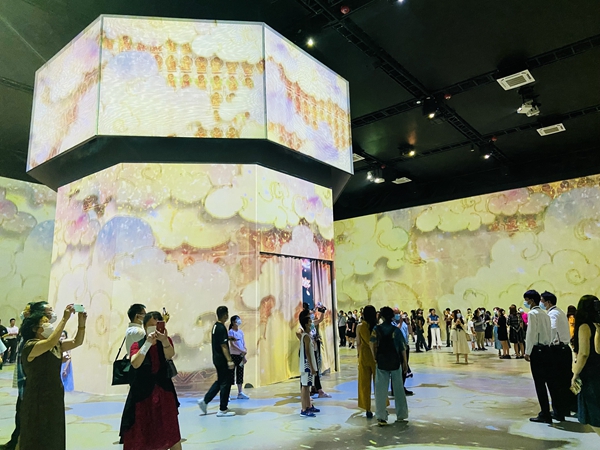 An immersive show on Dunhuang is carrying forward the art legacy, Lin Qi reports.
Veteran designer and painter Chang Shana, 90, has used the artistic style of Dunhuang throughout her life, making it a hallmark of her artworks.
Chang first arrived in Dunhuang, in the remoteness of Gansu province, with her father, Chang Shuhong, the founding director of Dunhuang Academy, in the early 1940s.
She grew up watching her father and other members of the academy copying and studying the murals and Buddhist statues in the caves. On school breaks, she joined them in the industrious work to conserve Dunhuang's artistic legacy. She and her father jointly held exhibitions to show their reproductions of the murals from the Mogao and Yulin caves.
Throughout later decades, as a designer and educator in Beijing, Chang Shana continued to incorporate the vibrant patterns she saw in Dunhuang into her creations.
Now she sees her devotion to Dunhuang being celebrated in a very lively way that is suited to the digital age.
Chang Shana's copies of Dunhuang murals, which span different dynasties, have been animated for the production of an immersive art show, titled Meet Dunhuang.
The show, which runs through Oct 18, is being staged in a specially constructed cube that is 18 meters high and covers 1,500 square meters, at Beijing's Huaxi Live Wukesong commercial compound.
A visual and audio feast, it employs the subjects in Chang Shana's remakes and the paintings by Sun Bo and Bao Ying, who also base their work on Dunhuang art. The show also features the images of artifacts at the Hirayama Ikuo Silk Road Museum in Japan.