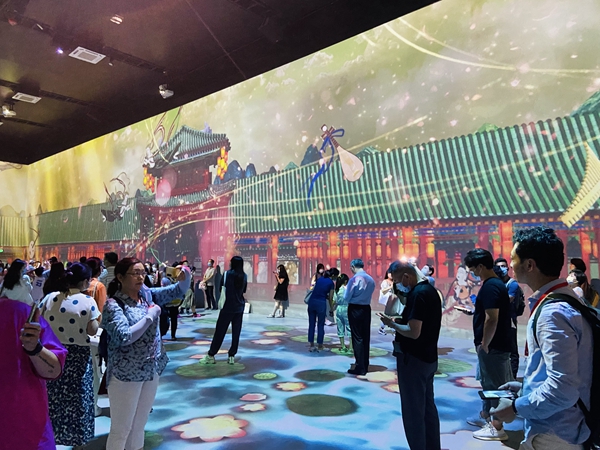 The production takes the audience back centuries, to the richness and dynamism of Dunhuang as the meeting point of different civilizations along the ancient Silk Road. It offers "a walk through the minds "of devout Buddhist followers and artisans, who invested time and money into creating some of the most enchanting works of art in history.
Chang Shana says she is deeply impressed by such a novel way to enliven and continue the life of Dunhuang art.
"I keep telling people how brilliant Dunhuang is. Art is supposed to convey messages of sincerity, kindness and beauty. I hope when people go looking for pop culture, they will not forget about the roots of our culture.
"Meet Dunhuang is the beginning of a new journey. Dunhuang's art and culture will be carried on with the aid of technology."
The show is staged in two rotations. The first to run through late August includes 12 sections that introduce various art forms as evidence of the exchanges between the East and the West. It features details from a mural that depicts Western Han Dynasty (206 BC-AD 24) envoy Zhang Qian on his exploration of the western regions.