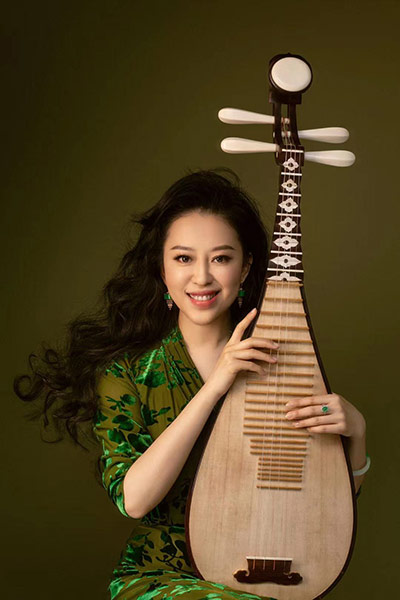 It was the record company's first album dedicated to traditional Chinese music, featuring Chinese producer-songwriter Ma Jiuyue and Danish sound engineer Hans Nielsen. Zhao performed with the Prague Symphony Orchestra, presenting music pieces, such as Moonlight on Spring River and Ambush on All Sides.
"The album still sells worldwide, which makes me proud. I remember when I recorded the album, all I wanted was to showcase the versatility of pipa to those who may not know about the musical instrument," says Zhao.
Though she has never been trained to compose, Zhao has tried to write up original material since her first album.
Her fourth album, Pipa New Language, in 2014 had six pieces composed by herself and four adapted from classic works, including The Beatles' hit, Hey Jude.
The same year, she was commissioned to write a piece for a concert, highlighting the ancient Silk Road, by the China National Traditional Orchestra.
Zhao traveled to Dunhuang, Northwest China's Gansu province, to visit the Mogao Grottoes, where she saw images of flying apsaras (angel-like beings known as feitian in Chinese) playing pipa.
Her work, Flying Apsaras, was inspired by the trip and proved to be a success, receiving warm feedback from both audiences and critics.
"My composition is about displaying the musical instrument as well as portraying the scenes I saw," Zhao says.
In June, Zhao worked with British soprano Mary-Jess Leaverland to bring a new song, Leaving, in an attempt to add Western vocals into Chinese traditional music.