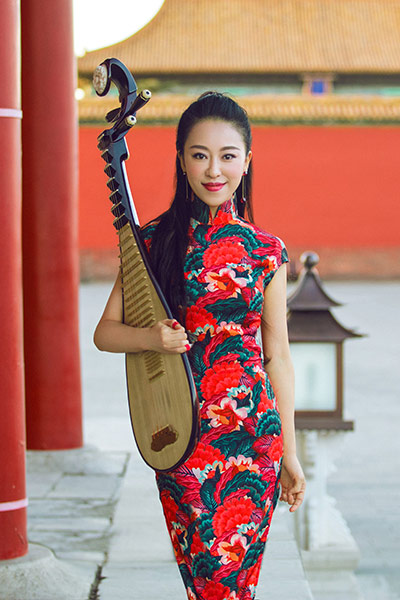 "Like Chinese ink paintings, which have empty spaces, the composer left a part of the music piece without any arrangements. It offered me space to imagine and to create myself," says Zhao, who improvised with music elements from Ambush on All Sides, one of the best-known music pieces for pipa.
Composer Liu says: "Red Flame is composed for the role of a warrior and sounds cute and delightful. Pipa is very expressive and versatile. It is a great interpreter of the character."
Lifelong devotion
For years, Zhao has been dedicated to introducing the traditional musical instrument to new audiences.
Born into a family of musicians in Northeast China's Jilin province, Zhao learned to play pipa with her mother, who is a pipa player, while her elder sister learned to play the violin with their father, a violinist.
She played for six hours a day and won a number of competitions.
"When I was a child, my mother told me that professional pipa players would practice eight hours a day. I bore that in mind, and practicing paid off," says Zhao.
She still keeps the habit of practicing daily even today.
"Almost every night, I practice from 9 to 12 pm. I am sorry to bother my neighbors," she says.
In 1996, Zhao came to Beijing to study pipa at the Central Conservatory of Music and joined the China National Traditional Orchestra after her graduation in 2000.
Her debut album, Carmen, in 2005, features pieces adapted for pipa and the guitar.
Her second album, Sound of China-Dance in the Moon, which was released by Universal Music Group's China division in 2008, was a breakthrough for Zhao.