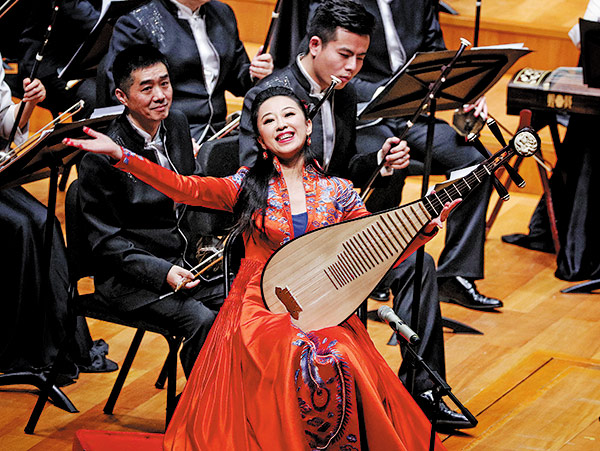 On June 23, Honor of Kings, one of the bestselling video games by Tencent Games' TiMi Studios, introduced its new character, a female warrior named Yun Ying.
Besides the cute image of the character, who is clad in a red uniform inspired by traditional Chinese female clothing, fans are also attracted to the game with the release of a new theme music performed by Zhao Cong.
Titled Red Flame, the music piece was released on July 7 through major streaming services.
Zhao, the principal pipa player of the China National Traditional Orchestra, wowed fans with her solid techniques of playing the traditional musical instrument-a four-stringed lute, one of the oldest Chinese musical instruments with over 2,000 years of history.
With different skills of playing her pipa, such as plucking the strings and sweeping the pick across the strings, Zhao vividly portrays the character of Yun Ying, a lovely, brave young female warrior armed with a spear.
"The sounds of pipa fit well with the character. When I listen to the music piece, it feels like I can see Yun Ying battling fearlessly with her weapon," comments a fan on the game site.
There are also fans of the video game who play pipa.
"After I listened to the amazing music, I instantly picked up my pipa and started to practice," writes another fan.
Zhao says: "Most of the video game's players are young people. I am proud that they can enjoy my performance through the game."
When she was invited to play music for the game, Zhao says she was not sure since she has a hectic schedule of performances and as the president of the China National Traditional Orchestra, she has lots of work to do aside from playing.
"But I agreed to play it because I like the music very much," says Zhao, adding that the composer, Liu Dong, knows the sounds of pipa well, and the piece has space for her to improvise.