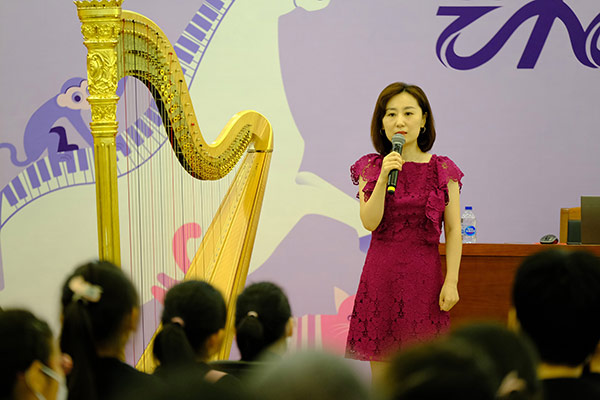 One of the students in the harp summer camp is Youyou, who was introduced to the musical instrument after she attended the summer camp in 2017 for the first time. Her mother also joined in the harp summer camp to study along with Youyou.
"Every summer vacation we learn to play the harp together. We are like friends playing together, which is fun," says the mother, who, along with her daughter, played The Merry Widow Waltz by Hungarian composer Franz Lehar, during the concert on July 22.
Gu Yingshuo, a 16-year-old boy from Xi'an, Shaanxi province, is a loyal fan of the harp summer camp. He not only developed his harp study as a hobby but also decided to launch a professional career as a harpist. Now, he is a student of the middle school affiliated to the Xi'an Conservatory of Music.
"The musical instrument helps me to express myself beyond words and when I play it, I feel relaxed since the sounds of the harp are soothing," says Gu.