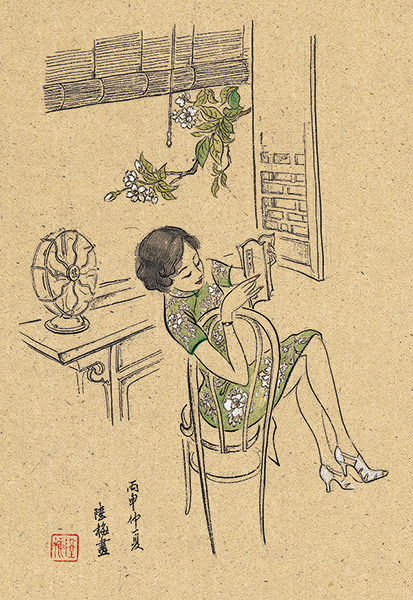 Today's typical image of the dress, also known as qipao, often involves a mandarin collar, a slim cut and a high split. But with her illustrations, Lu demonstrates that when the dress first came into being in the late 1910s, it resembled the robes worn by men of the time, featuring a wide cut and long length.
"The unusually perceptive Eileen Chang wrote that in 1920, women from the entire nation decided to don cheongsam, literally meaning long robe, because women intended to imitate men. They felt defeated by the unequal treatment of women and decided to boycott all female characteristics," Lu says.
"This can be interpreted as the pursuit of freedom and equality of women from early last century."
The transformation of cheongsam was closely connected with social prosperity and stability. In the 1930s, those making the dress adopted narrower cuts, shorter sleeves and higher splits that accentuated the female figure, and the textures and styles diversified.