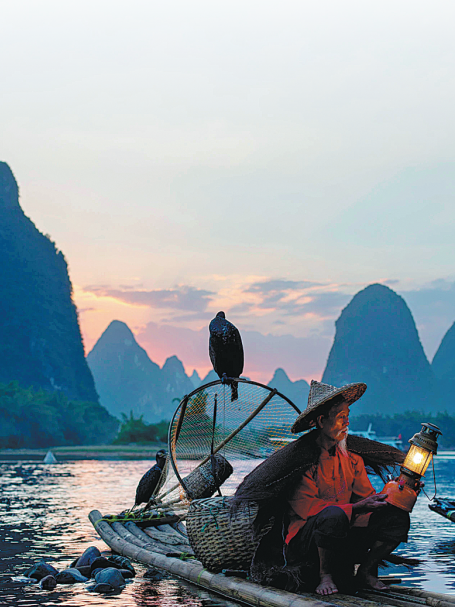 Steak and stone
At the Ru Zhuo restaurant, on the banks of the Lijiang River and near the city's Elephant Hill scenic spot, French-based cuisine, including pan-seared shrimp salad, beef and codfish with accompanying sauces, are paired with a wide selection of wines from the New and Old Worlds.
Diners are surrounded by priceless stone sculptures dating back to the Western Han Dynasty (206 BC-AD 24), which are part of owner Zhuo Ran's private collection. The unique East-West restaurant spans more than 1,000 square meters and is touted as a one-of-a-kind with its museum-like setting nestled among Guilin's traditional attractions.
Exhibits include a Bixi turtle-like mythological beast carving from the Southern and Northern Dynasties (420-581), frog-shaped "money-ringing" high-relief from the Eastern Han Dynasty (25-220), Taoist statues of the Northern Wei Dynasty (386-534) from Shanxi province and various Gandhara-influenced Buddhist relics.
Zhuo says he wanted to offer a "culturally beautiful place that left a long aftertaste" through a "feast of historians and poets".
"Guilin has long been known for having one of the most beautiful landscapes in the world, which makes it easy for people to ignore its stone-carving relics," he says.
Guilin stone carving began in the Eastern Jin Dynasty (317-420), flourished in the Tang Dynasty (618-907), reached its peak in the Song Dynasty (960-1279), fell somewhat in the Yuan Dynasty (1271-1368), and shined in the Ming (1368-1644) and Qing (1644-1911) dynasties. According to research, there are more than 2,000 stone carvings in Guilin from the Southern Dynasty (420-589) to the Qing, including more than 1,500 cliff carvings and nearly 600 cliff statues. These stone statues are sited at more than 30 famous mountain caves in Guilin. Among the picturesque mountains and rivers, the forest of stone inscriptions makes Guilin seem like a huge museum.
"Ancient stone carvings, Han and Tang sculptures, are the pinnacle of such art in my country and a source of culture. These items are transported here and displayed in their authentic and natural state. Diners can use their own experience and knowledge to perceive each other, drink with the ancients and feel the beauty of culture," Zhuo says.
Ziggy Moore, 38, has been in Guilin for a decade and points to the city's natural and cultural charms alongside its impressive growth.
"I wanted to travel the world; I wanted to learn a new culture, language. I never really thought about Guilin because it's a smaller city. My first choice would have been Beijing or Shanghai," the Californian says.
"But after traveling to many different cities throughout China, Guilin felt like home to me. It has beautiful mountains, the Lijiang River, lots of places where I can go and enjoy my life. Everyone seems so friendly, happy and helpful," he says.
"Outdoors, my first choice would be to go to the river for cliff jumping. I want more people to know about Guilin, how the people are always striving to improve their environment and city."
Li Ziyu contributed to the story