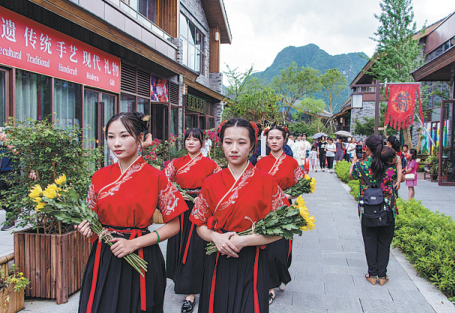 Natural comforts
Guilin is gearing up its offerings as a global tourist destination built on natural beauty, Chinese aesthetics and ethnic charm.
The Sanqianli Leisure Tourism Resort is one of the latest efforts to develop and upgrade green tourism. The resort in Xingping, which is under Yangshuo county, covers more than 100 hectares with an investment of more than 3 billion yuan. It boasts an awe-inspiring karst range as a backdrop to a tributary of the Lijiang River.
Visitors can experience ethnic snacks and performances across a network of culturally themed streets, which is host to an art museum dedicated to master ink painter Xu Beihong. The modern art pioneer spent time in Guilin and was inspired by its beauty.
Handicraft workshops, such as those for traditional tuanshan or round fans, also help preserve and promote local heritage.
In line with the resort's ecological approach, guests can try farming activities to bring them closer to nature, while outdoor enthusiasts can enjoy mountain climbing, paragliding, water sports and other physical pursuits.
Yi Ke, general manager of Guilin Palm Culture Tourism Investment Co which developed the site, says more than 300 village households have retained their homes and farmland, which they can continue to use to complement any work they do in the project as significant stakeholders in the area's growth.
"The residents and visitors all get the opportunity to mingle and interact with each other and nature as part of our long-term sustainable development model," he says.