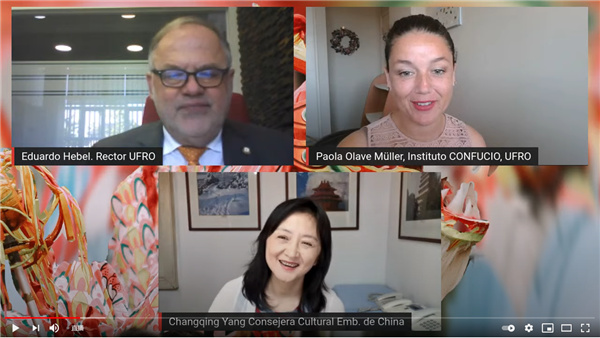 The first "Happy Chinese New Year" Culture Week for Chileans opened via livestream on YouTube on Jan 25, with the support of the Chinese embassy in Chile as well as the host, the Confucius Institute at the Frontiers University of Chile.
Eduardo Hebel, president of the university, and Yang Changqing, cultural counselor of the Chinese embassy, spoke during the livestream.
Counselor Yang Changqing said that the Spring Festival is the most important traditional festival in China. She hoped that the Chinese Culture Week could help people relax and let more Chileans have a deeper understanding of Chinese traditional culture during the COVID-19 pandemic.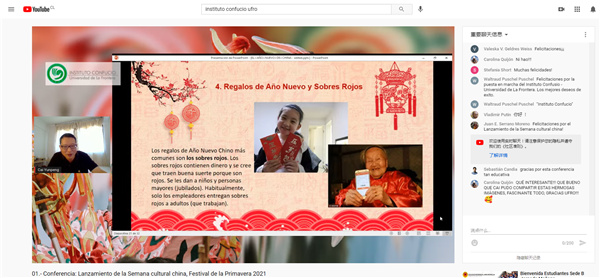 President Hebel thanked the Chinese embassy in Chile and other parties for their strong support. He said that the Confucius Institute of Frontiers University will continue to devote itself to spreading Chinese culture and contributing to the mutual understanding and deepening friendship between the two peoples.
The "Happy Chinese New Year" Culture Week presents activities such as lectures on traditional Chinese medicine, seminars on China-Chile economic and trade relations, and Chinese films.
This year, the Chinese embassy in Chile is making full use of online cultural resources and coordinating with Chilean institutions to bring comfort and hope to the local people in the fight against the pandemic.