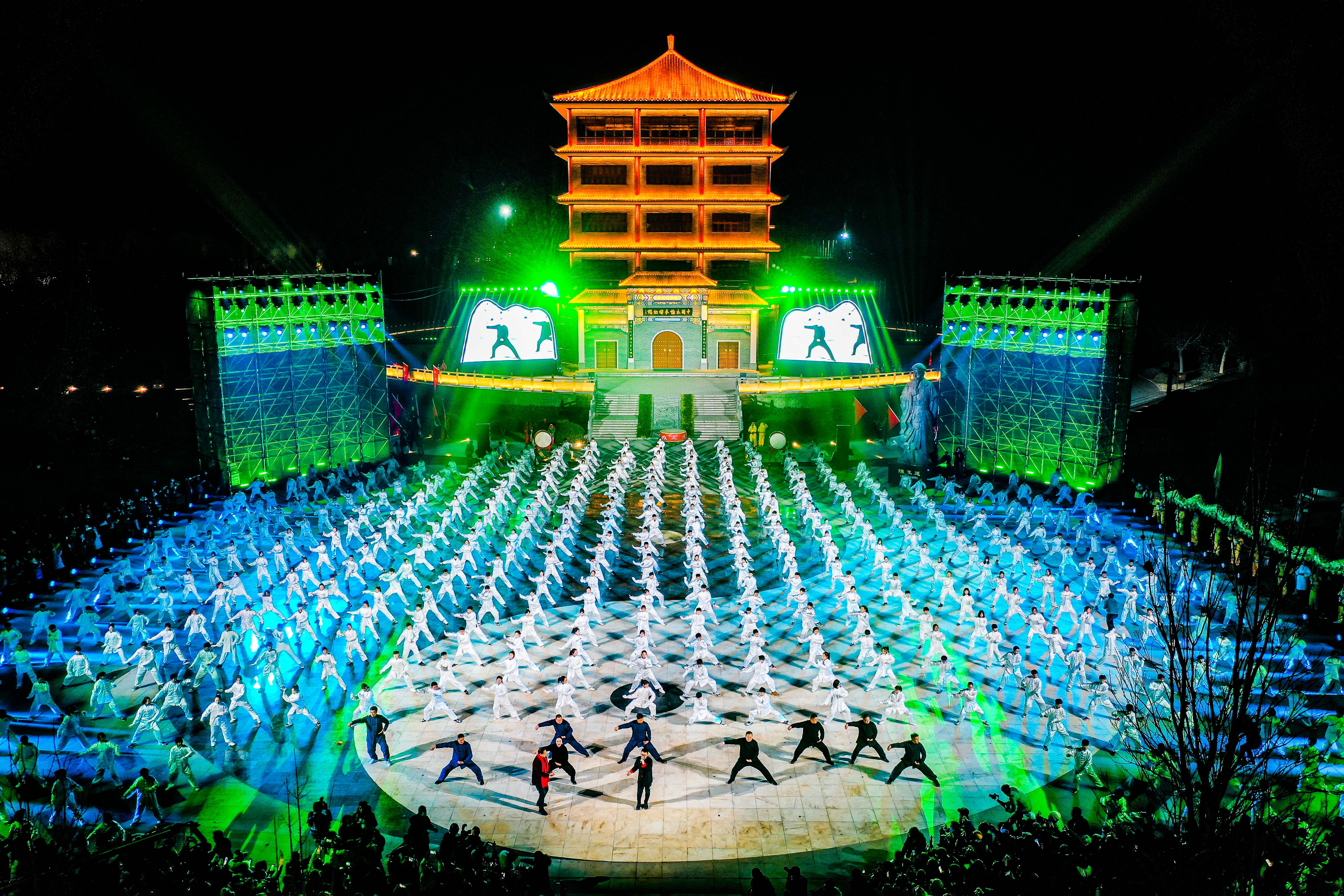 China's taijiquan, also known as tai chi-a major part of the stunning opening ceremony of the 2008 Beijing Olympic Games and represented by numerous practitioners worldwide-was added to UNESCO's Representative List of the Intangible Cultural Heritage of Humanity on Thursday.
On its website, UNESCO described the cultural icon as "a traditional physical practice characterized by relaxed, circular movements that work in harmony with breath regulation and the cultivation of a righteous and neutral mind".
It was added to the UNESCO list during the 15th session of the Intergovernmental Committee for Safeguarding Intangible Cultural Heritage, which is being held through Saturday online and hosted in Kingston, Jamaica.
The wangchuan ceremony of Fujian province also was given UNESCO intangible cultural heritage status on Thursday.
"Their inscription onto the list showed the unique value of intangible cultural heritage on people's health and sustainable development," said Wang Chenyang, an inspector from the Ministry of Culture and Tourism who is in charge of the work related to intangible cultural heritage.
Taijiquan, which originated during the mid-17th century in Wenxian county in Jiaozuo, Henan province, is practiced throughout the country by people of all ages and ethnic groups, according to UNESCO's website.
Influenced by Taoist and Confucian thought and theories of traditional Chinese medicine, the practice has developed into several schools or styles named after a clan or a master's personal surname, such as Chen style or Yang style.
They are passed down through clan-based transmission or the master-apprentice model, and built upon the yin and yang cycle and the cultural understanding of the unity of heaven and humanity, UNESCO said.
In China, seven national-level intangible cultural heritage items are related to different taijiquan styles, related to Beijing and Tianjin municipalities as well as Hebei and Henan provinces, according to the Ministry of Culture and Tourism.
"A successful bid is not our final goal," said Yan Shuangjun, a taijiquan researcher from the folk artists' association of Jiaozuo. "How to pass it down is the key. We'll be able to work more closely with scientific institutions to unveil the connection between taijiquan and people's physical and psychological health."
The successful bid also has helped to "clarify its orthodox roots with veneration" among the public, according to an editorial in the Xinhua Daily Telegraph. The editorial noted the controversy caused by counterfeit "tai chi masters" who have tried promoting themselves online through eye-catching gimmicks that it said distort the values of taijiquan.
Zhang Qiuping, secretary-general of the International Wushu Federation, said taijiquan is one of the most important wushu, or martial arts, events promoted by the federation.
"Its inclusion (in the UNESCO list) is of great significance to the promotion of wushu, and especially taijiquan, globally," he said.
Wangchuan ceremony
The other new entry-wangchuan (or ong chun based on pronunciation in local dialect) ceremony-was jointly put forward for UNESCO intangible cultural heritage status by China and Malaysia.
The ceremony and related practices are rooted in folk customs of worshipping Wangye, or Ong Yah, a deity believed to protect people and their lands from disasters.
Developed in the south of Fujian province between the 15th and 17th centuries, this tradition is now centered in the coastal areas of Xiamen and Quanzhou in Fujian as well as in the Chinese communities in Melaka, Malaysia.
In 2011, the ceremony was added to China's national intangible cultural heritage list.
Su Huaqi, the deputy director of intangible cultural heritage protection center of Xiamen, said wangchuan was held every three to four years. Its original purpose was to offer sacrifices to the victims of shipwrecks as a way of showing respect for life.
Now, however, it has taken on a richer cultural meaning.
As UNESCO explained, "The element evokes the historical memory of ancestors' ocean-going, reshapes social connections when confronted with emergencies such as shipwrecks and honors the harmony between man and the ocean."
The ceremony begins by people gathering at the seaside to welcome the deity to temples or clan halls and summon "souls" by erecting lamp poles. Performances, including local opera genres, dragon and lion dances and puppet shows, among others, are presented at the start of the procession.
Historical files show that the earliest assembly halls erected by people from Fujian appeared in Melaka around 1800. People from Fujian emigrated to that Malaysian city in large groups in the 19th and early 20th century to work as laborers.
According to Chen Geng, who leads the intangible cultural heritage expert panel in Xiamen, the ceremony is not only practiced by Chinese communities in Melaka but also other ethnic groups like Malay and Indian communities.
"The ceremony rooted there and blossomed," he said. "Our ancestors gave us references on how to build a community with a shared future for mankind."
He added that the bidding process also has built a platform to connect people from China and Malaysia, which will have lasting benefits for the 21st Century Maritime Silk Road.
A museum is being built focusing on the wangchuan ceremony in Xiamen.
China now has 42 entries in UNESCO's Representative List of the Intangible Cultural Heritage of Humanity, the most of any country.
Xinhua contributed to this story.