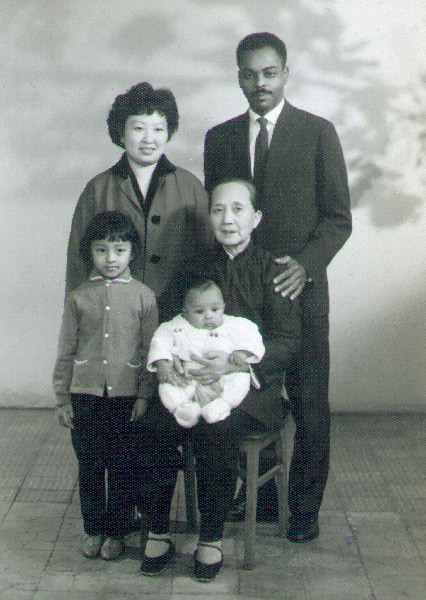 Clarence Adams with his wife Liu Linfeng, two children and Liu's maternal aunt, who helped take care of the children while the couple stayed in Beijing. [Photo provided by Della Adams to China Daily]
A freed POW opted to live in China for 12 years before returning to the US and becoming a restaurateur
Sept 17, 1999 was a Friday. At the end of a long day's work, Della Adams, information systems director for the Memphis Chamber of Commerce, knew that the Friday rush was cutting in at her parent's Chinese restaurant, where her help was needed.
Feeling "a sense of recklessness and dread" on her way, she arrived at the restaurant to discover that her 70-year-old father, who had suffered emphysema for years, "was not moving like he usually did".
She suggested closing but he refused. Two hours later he finally agreed, but insisted that they clean up first. "That was when he started to have the attack," said Adams, who, after calling 911 three times with no response, found herself driving a hundred miles an hour on the interstate highway trying to get her father to hospital.
Minutes away from the hospital, Clarence Adams, 70, fell over into his daughter's arm and said, "Della, I'm not going to make it this time."
For Della Adams, 62, the concept of her father "not going to make it" might not have existed. After all, this was a man who had survived a war that killed almost 40,000 Americans, a man who severed his festering toes in a POW camp to stop the infection from claiming his entire foot, a man who in effect was put on trial for treason yet opted to defend himself without the help of a lawyer, a man whose desire for a better life was, in his own words, "greater than any fear".