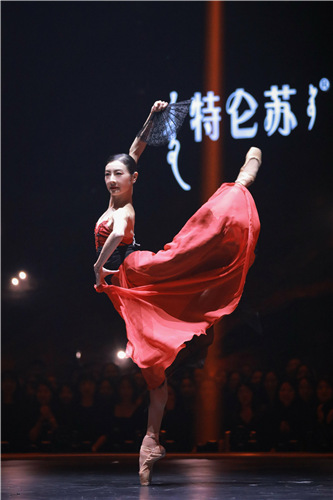 Tan Yuanyuan, principal dancer of San Francisco Ballet, is one of the celebrity performers in the TV show Dance Smash. [Photo provided to China Daily]
The second season of a Chinese TV show brings top dancers onstage.
In a performance, the dancer resembles a moving statue, an archetypical embodiment of the human body, with an equilibrium between strength and tenderness, maximizing physical potential via myriad ephemeral motions.
With modern technology, the fleeting moments can be framed, not just as nebulous snapshots but in a rotational slow-motion sequence supported by more than 100 cameras that zoom in on a single dance movement from different angles.
Dance Smash, a Chinese talent show produced by Hunan Satellite TV that features the technology to capture diverse dance styles in motion, is now airing its second season. This year adopting the same setting, members of a stellar cast express themselves in a short dance sequence under the spotlight.
As if in the eye of the storm, individual dancers or ensembles present breathtaking performances, while after the show the audience breaks into waves of applause. Based on the dancers' skills, the show's judges select those who move on to the next round of competition.
The stage setting features minimal design and emphasizes visceral energy. Audience members, seated around the circular stage, can get a 360-degree view of the dancers' performance.
The mere presence of the principal dancer of San Francisco Ballet, Tan Yuanyuan, leaves the judges and audiences in awe in the third episode. The Shanghai-born dancer became a ballet legend after joining the ballet company in 1995 and being promoted to principal dancer in two years.
"I have never left the stage for so long since I entered San Francisco Ballet at 18," Tan says, adding that the company stopped offline performances in March due to COVID-19, and her pining for the stage propelled Tan to accept an invitation from the TV program in China.
The piece she debuted on the Dance Smash stage is entitled Return.
"With my love for dance, I returned to the stage, and to the land from which I had taken off. It's a journey to rediscover the stage I had lost in those seven months."