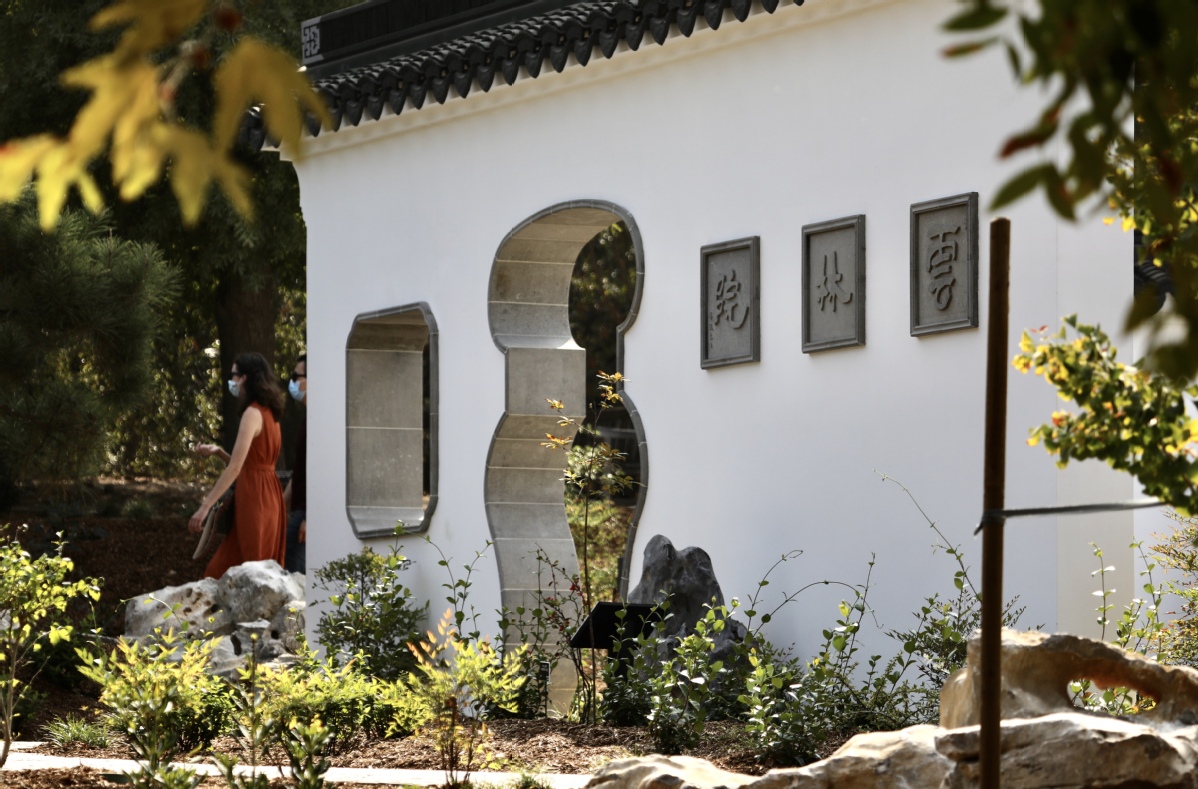 Liu Fang Yuan, also known as the Garden of Flowing Fragrance, in San Marino, Los Angeles County, California, United States, reopens to the public in October with 4.6 hectares of new landscape. [Photo/Xinhua]
Visitors immersed in Chinese art, literature
Los Angeles native Randall Bartlett sat under the arched rooftop of a traditional Chinese scholar's studio. Intricate golden dragons embroidered on his black shirt glistened in the sun as he occasionally flipped a page of his book.
Nearby, an elderly couple paused to read calligraphy chiseled into a cloud-shaped rock. Across a pebbled mosaic pathway, a small group in their 20s gathered around a shimmering lake framed by willow trees to take photos of turtles hiding amid the water lilies.
The setting was the revamped Liu Fang Yuan garden, also known as the Garden of Flowing Fragrance-a 6-hectare space at the Huntington Library, Art Museum and Botanical Gardens in an affluent suburb nearly 18 kilometers northeast of downtown Los Angeles.
"I didn't have this when I grew up, so when I found it, it was just spectacular. Instead of being inside the Huntington Library and seeing a painting or a photograph of it, this (garden) is living and breathing," Bartlett said.
Intrigued by Asian culture from an early age, Bartlett drives 60 km from his home in Santa Clarita, California, to the Huntington Library several times a month. The collections-based educational and research institution is located in San Marino, Los Angeles County.
Bartlett's favorite spot at the venue is the Liu Fang Yuan garden, which he visits regularly to meditate and read. For him, the garden brings to life the Chinese philosophies he learned from books.
"I have never had the opportunity to travel to Asia. There are only a few gardens in the United States I've seen that represent some of things I may be able to enjoy were I to go to China and see some of the beautiful architecture and gardens they have there," said Bartlett, who has a vast collection of Chinese literature at home.