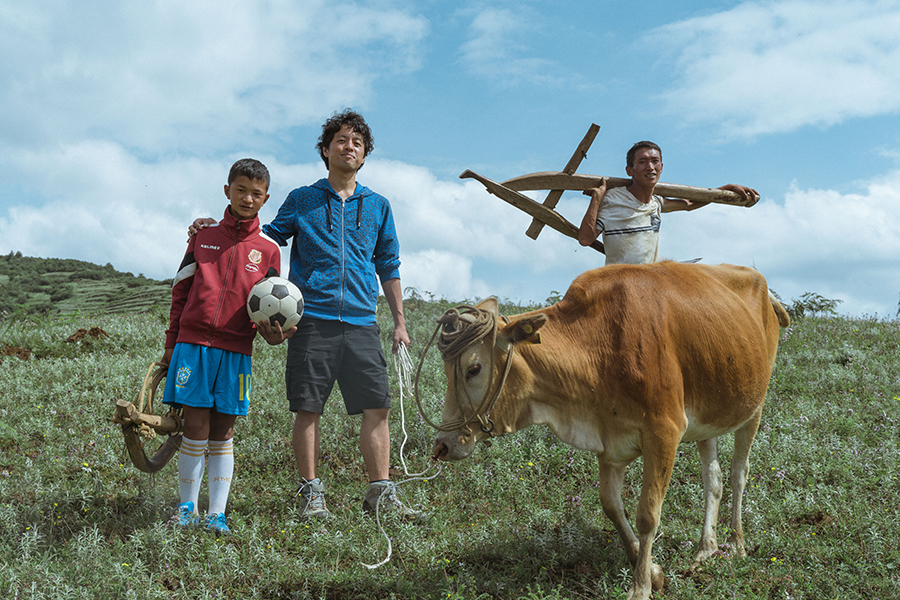 Ryo Takeuchi poses with a fan in Liangshan Yi autonomous prefecture, Sichuan province. [Photo/China Daily]
Documentaries highlight efforts to fight pandemic and poverty
A documentary about the impact of the pandemic in Wuhan, the capital of Hubei province, has catapulted a Japanese filmmaker to fame on Chinese social media platforms.
Ryo Takeuchi, who has lived in China for seven years, found himself in the spotlight after making Long Time No See, Wuhan.
Released on June 26, the film has been viewed more than 25 million times on Sina Weibo, the country's largest social media platform. It has also been a hit in Japan, where it has notched up 940,000 views on YouTube.
To date, Takeuchi has 4.15 million followers on his Sina Weibo account, with Long Time No See, Wuhan winning the platform's Most Influential Documentary award this year.
After graduating from high school in Abiko, Japan, Takeuchi learned to make films at specialized schools. He worked for Japanese television stations as a documentary director before moving to Nanjing, the capital of Jiangsu province, with his Chinese wife in 2013.
His connections with China began in 2002, when he was in Shanghai, Zhejiang and Jiangsu provinces shooting a documentary about mahjong. Over the years, he has traveled frequently between China and Japan to make films.
"I liked watching movies in high school, even missing classes to do so. I like to record the real world, rather than follow a script, and that's why I chose to be a documentary director," he said.
Takeuchi, who is 1.73 meters tall, has curly hair and can speak fluent Chinese, is known as Liangshu (Uncle Liang) to his followers and fans in China.
"I never thought that Long Time No See, Wuhan would be such a hit in China," he said.